Why France's Surprise Primary Winner Is No Trump: QuickTake Q&A
By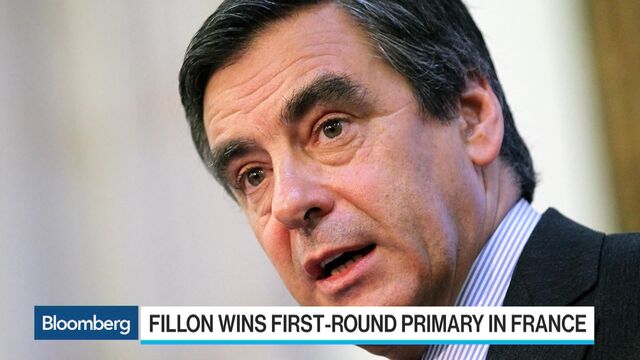 The election surprises of 2016 continue. In France, former Prime Minister Francois Fillon secured the center-right nomination for president after trailing in third or even fourth place for most of the campaign. He'll face National Front leader Marine Le Pen and a candidate representing the divided and weakened Socialist Party, which won't choose its nominee until January. The first round of voting will be on April 23, with the two leading candidates competing in a runoff May 7. 
1. Is Fillon the Donald Trump of France?
Though his poll-defying triumph echoed the results in the U.S. election, Fillon is no political outsider promising to drain the swamp. A lifelong politician who admires Margaret Thatcher, he campaigned on a familiar litany of conservative solutions: cutting spending, slashing government jobs, reducing corporate taxes and increasing the retirement age. He wants to keep France in both the Schengen passport-free zone and the euro single currency. Plus, he has a fairly unremarkable haircut. If there's one thing Trump and Fillon do share, other than an aversion to trade deals, it's a certain admiration for Russia's Vladimir Putin.
2. What does Fillon's rise mean?
That French voters, at least the conservatives, want drastic measures to shake up the economy, enacted by a leader less volatile than Sarkozy. Fillon's measured tone stands in contrast to his dramatic policy proposals. The business community looks to be solidly behind him.
3. What happens now?
Fillon begins the general campaign as the favorite to become France's next head of state. He's expected to finish among the top two in the April 23 first round. In all likelihood, he'd then face off against the anti-European Union, anti-immigration Le Pen in the May 7 second round. French "voters have tended to rally behind mainstream candidates if the choice is between them and anti-establishment parties," Morgan Stanley economist Carmen Nuzzo said in a note to clients.
4. Who will be the Socialist Party's candidate?
Good question. The left holds its primary at the end of January, and the deadline for entering the race is Dec. 15. President Francois Hollande's popularity is at an all-time low, but he hasn't ruled out seeking re-election. His indecision is grating on the nerves of Prime Minister Manuel Valls, who says he's ready to run if Hollande doesn't. Whoever does run will face a half dozen far-left and ecologist candidates, as well as former Economy Minister Arnaud Montebourg, who is popular with the Socialist Party's leftist flank. Confusing matters further, two potential leftist primary candidates have decided to go it alone and run directly for president: Jean-Luc Mélenchon, who is supported by what's left of the Communist Party, and Emmanuel Macron, another former economy minister who is popular with young urban professionals.
5. What would a Fillon-Le Pen matchup look like?
A Nov. 25 poll by Odoxa for France 2 television found that in a head-to-head matchup, Fillon would trounce Le Pen, 71 percent to 20 percent. Bookmakers downgraded the chances of Le Pen becoming the next president after Fillon emerged as the Republicans' likely candidate.
The Reference Shelf
Before it's here, it's on the Bloomberg Terminal.
LEARN MORE