U.K.'s Davis and EU Brexit Negotiator Barnier in First Talks
Tim Ross and Jones Hayden
'Courtesy coffee' meeting in Brussels said to be constructive

Pair agree no negotiations allowed before Article 50 triggered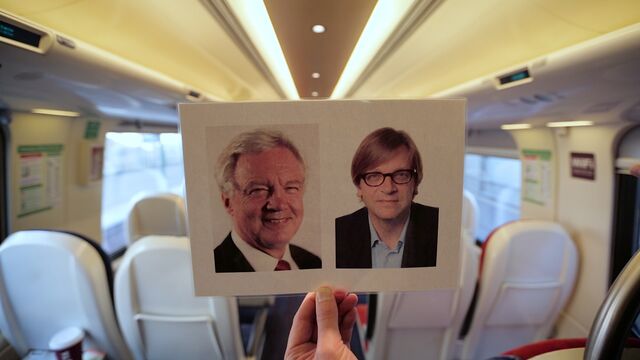 Brexit Secretary David Davis met his European Union counterpart, Michel Barnier, for coffee in Brussels on Monday, but made no progress on negotiating the deal that will see the U.K. leave the EU.
The meeting, said to have been at Davis's request, was constructive, according to a person familiar with the matter. However, both men agreed they cannot begin formal talks before the U.K. initiates the legal start of a two-year departure process, said the individual, who declined to be identified discussing a private conversation.
Davis, 67, will lead work on the deal for the U.K. while Barnier, a 65 year-old French national, is the European Commission's chief Brexit negotiator. The two men know each other already: they both served as Europe ministers for their governments in the 1990s.
"Michel Barnier had a courtesy coffee today with David Davis, at his request, to re-establish contact," the European Commission said in an e-mailed statement. "They confirmed that there can be no negotiations before notification. They agreed to work towards an orderly withdrawal of the U.K. from the EU once the U.K. has notified the European Council of its intention to withdraw."
Courtesy visit
In a post on Twitter, Barnier said his primary concern were the remaining members of the EU. "My work is now focused on EU27," Barnier said.
Last month, U.K. Prime Minister Theresa May said she would like the EU to begin "preparatory work" with the rest of the EU so that "once the trigger comes we will have a smoother process of negotiation." European leaders have rejected her request.
In the first of a series of visits to European capitals, Davis also met British officials who will work on the negotiations in Brussels. On Tuesday, he is due to travel to Strasbourg, France to meet Guy Verhofstadt, the European Parliament's Brexit negotiator.
During his trip, Davis is expected to stress that he will approach the negotiations in a spirit of goodwill, according to a statement from the U.K. government's Brexit department.
Supreme Court
"I want to begin the work of ensuring we have positive, strong, and productive relationship with our closest neighbors," Davis is due to say. "The people of the U.K. have made a clear decision to leave the EU, and that is one the government will respect and implement. But Britain will continue to be the same outward-looking country that it has always been. I am confident that by working together we will be able to secure a deal that works in the mutual interests of the U.K. and the rest of the European Union."
May has said she will trigger Article 50, marking the formal start of Britain's exit negotiations, before the end of March. The Supreme Court in London is due to hear a case next month which could lead to a delay.
Before it's here, it's on the Bloomberg Terminal.
LEARN MORE