Too-Big-to-Fail Banking Finds Regulatory Loophole in Scandinavia
By and
Nordea restructuring opens discussion on SIFI branches

Finland, Denmark urge EU to step in to avoid loophole abuse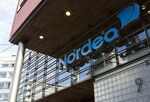 The financial watchdogs of Finland and Denmark want the European Union to step in and address a gap in regulations that the two countries say has the potential to destabilize their markets as they lose control of the region's biggest bank.
At issue is a plan by Nordea Bank AB to turn subsidiaries across the Nordic region into branches of a group that will be headquartered in Stockholm. The maneuver essentially hands oversight of a global systemically important bank (with a market value almost twice Deutsche Bank AG's) to Sweden's regulator. But in Finland and Denmark, Nordea won't answer to local regulators on a number of key issues, despite being on each country's too-big-to-fail list.
Finland, the Nordic region's only euro member, has been particularly outspoken in voicing its concerns. The country's regulator wants the EU to grant host countries greater powers to oversee all operations in their backyards.
Adequate Power
"My first priority has been that in EU legislation we would have adequate powers for host supervisors regarding the supervision of a systemically important branch," Anneli Tuominen, director general of the Financial Supervisory Authority in Helsinki, said in an interview. "This covers participation in decision making, information exchange, macro-prudential reciprocity."
As things stand now under EU rules, Sweden isn't obligated to honor the macro-prudential policies its neighbors adopt. Jesper Berg, head of Denmark's FSA, says the current setup makes it "very difficult" to impose tough rules, such as limits on lending, if the Danish FSA can't apply the same standards to Nordea as it does to other local banks.
The European Commission acknowledged in August that the existing framework for macro-prudential regulation risks distorting competition and undermining cross-border efforts to maintain financial stability. It left the door open to reviewing current rules, as Nordea becomes a test-case in Europe.
Seeking Assurances
Tuominen says Europe's rules on branch structures weren't conceived for lenders with cross-border operations as big as Nordea's. In Finland alone, Nordea accounts for almost one-third of the country's market share.
Nordea's plan to turn its Nordic subsidiaries into branches won Swedish approval in May. The bank says the move will strengthen governance and improve efficiency. It hopes to complete the new structure by early 2017, pending approval from other Nordic regulators.
Berg has criticized Nordea's restructuring bid, which he says isn't in the spirit of European rules. Though Denmark is likely to give Nordea the go-ahead, Berg and Tuominen are working with Swedish authorities and Nordea to draw up a memorandum of understanding on how to proceed.
Nordic History
Nordic supervisors have a history of working together. But that won't necessarily be enough in times of financial turmoil, according to Tuominen. The Nordic countries, together with Estonia, Latvia and Lithuania, created the Nordic-Baltic Macroprudential Forum in 2011 under the chairmanship of Stefan Ingves, governor of Sweden's Riksbank.
"I would say that cooperation has been very good," Tuominen said. But Nordea's proposed branch structure will test the region's ties. "Due to the new situation, the cooperation needs, however, to be strengthened," she said.