markets
Temer Aide's Future in Balance Amid Brazil Ethics Probe
By and
Secretary Geddel Vieira Lima accused by outgoing minister

Accusation coincides with vote on key austerity measures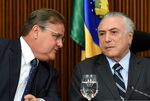 One of the closest aides to Brazilian President Michel Temer has come under pressure to resign over allegations of influence trafficking, potentially disrupting the approval of crucial austerity measures in Congress.
A presidential ethics committee on Monday evening decided to launch an investigation into 
Government Secretary Geddel Vieira Lima, Temer's top liaison with Congress, for allegedly abusing his position to obtain a permit for a building in which he has a stake. The accusation was made by the former culture minister, Marcelo Calero, in an interview with Folha de S. Paulo after he resigned last week. Lima has ten days to provide his defense to the committee.
Lima confirmed he spoke to Calero about the building but denied putting pressure on his colleague, according to interviews with O Globo and Folha de S.Paulo newspapers. On Monday afternoon, presidential spokesman Alexandre Parola told reporters that Lima would continue in his position as Government Secretary.
Opposition leaders in Congress demanded the immediate dismissal of Lima, just as Temer needs all the political support he can get to approve a controversial bill to cap government spending. Lima and Chief of Staff Eliseu Padilha are in charge of negotiations with lawmakers for the approval of the bill in the Senate.
"He is in no political or moral condition to remain in the job," Senator Humberto Costa, leader of the opposition Workers' Party in the Senate, said in a post on his Twitter account. His party will call on Lima to explain himself in the Senate, he added.
Asked about the future of Lima in the government, Padilha told reporters that only Temer has the power to nominate and, if necessary, dismiss ministers.
Mauro Menezes, the president of the ethics committee, could not say when it would reach a conclusion, but the lead counselor will be appointed on Tuesday. The committee has no punitive powers but can recommend disciplinary action against government members. 
Aides to Temer said that the ethics council investigation into Lima is less of a concern than the plea-bargain testimony from Odebrecht executives implicated in the Carwash scandal, according to a government official who was briefed on the matter and asked not to be named because the information isn't public. These executives are expected to finalize their testimony this week.
Possible plea bargains in the long-running Carwash corruption investigation are the most dangerous wild card for the government agenda, according to the official.
Three of Temer's cabinet members were forced to resign in the weeks after he took office in late May over alleged cover-ups in a sweeping corruption scandal.
(
Adds comments by official on Odebrecht plea bargain in eighth paragraph.
)
Before it's here, it's on the Bloomberg Terminal.
LEARN MORE