South Africa Eyeing Rating Cut Seeks to Calm Labor Market
by and
Labor stability seen key to avert junk credit rating by S&P

Minimum wage may drive mechanization: economist Schussler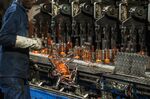 South Africa's proposals to stabilize the labor market by introducing a national minimum wage and curtailing strike action have received mixed reviews, just days before ratings companies are scheduled to decide whether to downgrade the nation's credit rating.
The country's biggest labor union has dismissed the recommended minimum wage of 3,500 rand ($246) a month announced by Deputy President Cyril Ramaphosa on Sunday as "an insult." Economists such as Christie Viljoen at KPMG LLP in Cape Town say many businesses will regard the pay level as too high, even as they welcome proposals for strike balloting and a limit on indefinite strikes.
"Local and foreign investors will welcome plans to make sure that our labor environment is less violent and less prone to elongated demands," Viljoen said by phone. "I am not sure of this 3,500 rand. It will be very difficult to convince the majority of business organizations to accept the minimum wage at that level."
Moody's Investors Service and S&P Global Ratings, which are due to deliver revised assessments on the South Africa's debt in the next two weeks, have cited labor upheaval, strikes and laws that discourage companies from hiring as potential risk factors to the country's rating -- issues the government says it's intent on addressing. South Africa is ranked at the lowest investment grade level by S&P, while Moody's rates its debt one level higher.
Restrictive Regulations
While South Africa was found to be the 47th-best place to do business out of 138 countries ranked in the World Economic Forum's 2016-17 Global Competitiveness report, the efficiency of its labor markets ranked 97th. Business executives canvassed by the Geneva-based forum rated South Africa's restrictive labor regulations as the second-most problematic factor for doing business in South Africa after government bureaucracy.
Ramaphosa said that a panel of experts commissioned by the National Economic Development and Labor Council, known as Nedlac, which promotes negotiations among unions, government and business, recommended the minimum wage to be phased in over two years. He also cited broad agreement that unions should ballot their members before going on strike and that work stoppages shouldn't be allowed to continue indefinitely.
For many businesses the minimum wage would signal a large rise in costs because many South Africans currently earn less than 3,500 rand a month, Viljoen said.
Racial Disparity
Some labor leaders see the proposed minimum wage as too low.
"We reject this with the contempt it deserves," Irvin Jim, general-secretary of the 330,000-member National Union of Metalworkers of South Africa, or Numsa, said by phone. "It is a known fact in this country white workers are paid 20,000 rand and above, and the blacks are languishing between 3,700 and 4,500."
The Congress of South African Trade Unions, whose affiliate unions represents 1.9-million workers, and the Federation of Unions of South Africa, which speaks for 560,000 employees, took part in the talks with government and business representatives on the minimum wage and other labor reforms. Jim's Numsa, which was expelled from the government-aligned Cosatu three years ago for criticizing the ruling African National Congress and its leader President Jacob Zuma, didn't participate.
"The important thing is that clearly South Africa is now going to have a legislated minimum wage," Sdumo Dlamini, Cosatu's president, said by phone. "It's very significant now that there is a proposed figure around which we can consult and then take a view." 
Sign of Progress
Cosatu had previously suggested a minimum wage of 4,500 rand to 5,300 rand. The labor federation's central executive committee is due to discuss the proposals announced by Ramaphosa at a three-day meeting that began Monday.
"How you eventually get to a figure that is acceptable to everybody will depend on engagement and collaboration among our key stakeholders," Deputy Finance Minister Mcebisi Jonas said in an interview in Secunda, east of Johannesburg, on Monday. "At least now you have a figure at the table. I think it's a signal of progress."
While Ramaphosa initially described the 3,500 rand minimum wage as a "magic figure," he later said the amount was open to negotiation.
The proposed minimum wage would do little to address racially based inequality that dates back to the era of white minority rule, which ended in 1994, and is only intended to appease ratings agencies, according to Jim. Many companies can afford to pay more than the government is proposing and appropriate pay scales should be determined on an industry-by-industry basis, he said.
Nedlac is due to hold further discussions on the minimum wage and other labor reforms before they are published for public comment.
Labor Stability
Khanyisile Kweyama, the chief executive of Business Unity South Africa which represents business in Nedlac, said the group is consulting its members on the minimum wage and didn't yet have a view on whether it was appropriate.
"On the issues of labor stability and efforts to review strike activity, we are very happy about that," she said by phone. "It's important for the rating agencies as well."
Most formal sector businesses already pay their workers more than the proposed minimum wage and won't be affected, while many small companies may be hit by rising labor costs, Mike Schussler, chief economist at Johannesburg-based research group Economists.co.za, said by phone.
"They will look at doing things without so much labor," he said. "This will not be conducive to job creation."
Before it's here, it's on the Bloomberg Terminal.
LEARN MORE