Santander, BBVA Global Push Runs Into Risks From Trump to Brexit
By and
Spain's biggest banks under strain amid emerging markets rout

Growth drive helped lenders weather Spanish property crash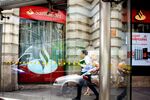 The international expansion that helped Spain's two biggest banks weather the country's property crash has now left them vulnerable to the political shocks reverberating around the globe.
Consider Banco Santander SA. Its top three overseas markets -- Brazil, the U.K. and Mexico -- have all been been shaken this year by events ranging from the impeachment of Brazil's president to Britain's decision to quit the European Union and the American election of Donald Trump. These countries account for almost half of Santander's profit.
Banco Bilbao Vizcaya Argentaria SA, Spain's No. 2 bank, gets about two-fifths of its earnings from Mexico, where the peso fell on Trump's victory in the U.S. presidential vote. Trump has roiled relations with America's southern neighbor by pledging to renegotiate the free-trade agreement that helped transform Mexico into an export powerhouse.
"Suddenly, it looks like the positive effects of globalization that these banks were counting on are going to be less," said Karim Bertoni, who helps manage 6.9 billion Swiss francs ($6.8 billion) at Bellevue Asset Management in Switzerland. "The markets are telling their own story."

An aggressive overseas expansion softened the impact for both banks of the housing collapse that forced Spain's government to draw on European loans to prop up its financial system in 2012. While it's too soon to say how the Trump presidency or Brexit will play out, the wave of political upheaval is forcing investors to reevaluate the risks facing the banks' businesses.
BBVA shares have fallen by almost 10 percent since the U.S. election, and Santander by 3.3 percent, even as an index of European banking stocks rose on optimism Trump will reduce financial regulation and boost economic growth. For the year, shares of both banks are outperforming the index.
Analysts at Keefe Bruyette & Woods, Jefferies Group and Citigroup Inc. cut their ratings on BBVA following the vote. "The uncertainty on the outlook for the Mexican economy and the full implications of a Trump presidency are likely to weigh on both the relative and absolute performance of BBVA versus peers," KBW's Daragh Quinn said in a note to clients.
BBVA is hedging 40 percent of next year's expected net attributable profit from its Mexican unit, the lender said in a statement. Officials for BBVA and Banco Santander declined to comment.

Trump's win sparked a swoon in emerging-market assets on speculation his administration will boost fiscal stimulus next year and fuel inflation. Federal Reserve Chair Janet Yellen said Thursday that the central bank is now close to raising borrowing costs.
Read more: Emerging markets extend losses on U.S. rate concern
Under its late chairman, Emilio Botin, Santander embarked on an acquisition drive that saw it grow from Spain's sixth-biggest lender to the No. 2 bank in the euro region by market value, with more than 1.3 trillion euros ($1.4 trillion) in assets. In the 1990s, the bank added lenders from Argentina to Mexico and secured its foothold in Brazil in 2000 with the purchase of Sao Paulo-based lender Banespa.
BBVA, which emerged in its current form from a merger in 1999, also built up in Latin America with acquisitions in Peru, Colombia and Argentina before taking control of Mexico's Bancomer in 2000. Chairman Francisco Gonzalez paid $9.6 billion for Compass Bancshares Inc. in the U.S. in 2007 and accumulated a 40 percent in Turkiye Garanti Bankasi AS since 2010.

Some investors are more sanguine about the political risks.
"Trump won't be able to go ahead with his super-protectionist plans, and BBVA's business in Mexico is solid, benefiting from the growth of the middle class," said Jaume Puig, general director of Barcelona-based GVC Gaesco Gestion, which manages 1.3 billion euros. "What would have happened to Santander and BBVA if they hadn't had their international businesses when the crisis hit Spain?"
On top of the emerging markets rout, Santander's main challenge is Brexit. U.K. profit fell 24 percent in the third quarter from a year earlier, hit by weakness in the pound. While Santander executives say it's too soon to see any impact from Brexit, the bank has lowered the 2018 profitability target at the British unit on the expectation for slower economic growth.
State of Emergency
BBVA's business in Turkey is toiling under the state of emergency that followed July's failed coup against President Recep Tayyip Erdogan. Garanti has cut rates on loans to small companies and consumers twice since the coup attempt, as the government urged lenders to ease borrowing costs to spur growth. While earnings are holding up, the biggest risk comes from currency headwinds, UBS Group AG analysts led by Ignacio Cerezo said in a note last week. The lira is the third worst-performer among emerging-market currencies this year, losing 11 percent against the euro.
"Geographical diversification makes sense, but brings economic and political risks," said Gemma Hurtado, who manages about 350 million euros including BBVA shares at Mirabaud Asset Management in Spain.
Before it's here, it's on the Bloomberg Terminal.
LEARN MORE