May Waters Down Plans to Appoint Workers to Company Boards
By and
No works councils, no German-style boards, premier tells CBI

Says government will consult with businesses on proposals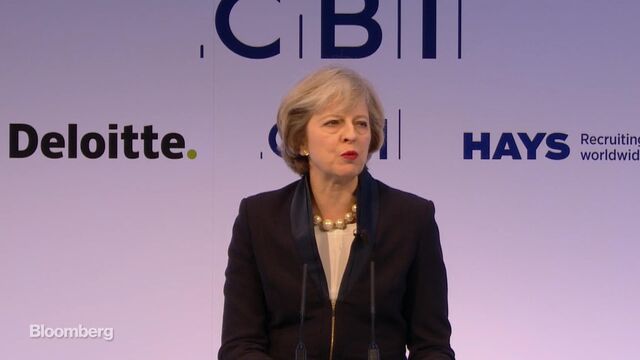 U.K. Prime Minister Theresa May watered down plans for worker representation on company boards as she pledged low taxes if businesses work with the government to make the economy fairer.
May said Monday she wouldn't push for works councils or German-style two-tier boards as part of her government's plan to shake up corporate governance and that the move wouldn't mean the direct appointment of workers or labor-union representatives as directors. That's in contrast to her statement at her Conservative Party's conference last month that the government would publish later this year "plans to have not just consumers represented on company boards, but workers as well."

"While it is important that the voices of workers and consumers should be represented, I can categorically tell you that this is not about mandating works councils, or the direct appointment of workers or trade-union representatives on boards," May told the Confederation of British Industry's annual conference in London.
It's not the first time the prime minister has toned down her rhetoric in her dealings with businesses. Her criticism of global elites and of loose monetary policy at the Tory conference roiled markets, leading her to later clarify her remarks. 
In her speech, May restated the need to heed public calls for more equality as political leaders grapple with the fallout from the June Brexit vote and the election of Donald Trump as U.S. president two weeks ago.
"We want workers' representation on boards," May told reporters in answer to questions after her speech. "There are a number of ways that can be achieved; we're going to be consulting with business this autumn about how that can be achieved, alongside other issues of corporate governance."
Tax Rate
May also called for business to play by the rules in terms of tax and behavior. In exchange, she restated her government's pledge to give Britain the lowest corporate-tax rate in the Group of 20 and hinted Wednesday's mini budget may include tax breaks for innovative businesses.
"If we support free markets, value capitalism and back business, and we do, we must do everything we can to keep faith with them," she told delegates. "That's the kind of change people voted for -- not just to leave the European Union, but to change the way our country works, and the people for whom it works, forever."
Responding to May's address, CBI Director General Carolyn Fairbairn said firms recognize public concerns. "The challenge now is to take the great practice that we see in so many places and apply it everywhere, eradicating the unacceptable transgressions that some companies do make," she said in a statement.
On employee engagement, "a starting point is firms being able to outline and explain what approach they are taking -– whether that's employees on boards, employee committees, dedicated representatives or other models that genuinely address the issue," she said.
Opposition Labour Party Jeremy Corbyn said he's "very disappointed" by May's move to scale down plans for worker representation.
"A company only succeeds because it has a workforce that works, it only succeeds because of the imagination and ingenuity of that workforce," he said in a Bloomberg Television interview at the CBI conference. "Any company that wants to do well values its workforce and wants to hear their voice. So hearing that voice in the boardroom is surely a good thing, because that will help them on product development."
— With assistance by Nejra Cehic
Before it's here, it's on the Bloomberg Terminal.
LEARN MORE