Fischer Drives Home Fed's Advice to Trump: Lift Productivity
By and
Vice chair says economy "in vicinity" of Fed's twin goals

U.S. economy requires investments to boost long-term growth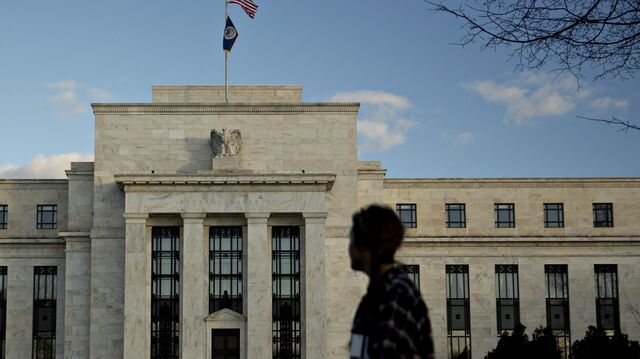 The Federal Reserve's advice to President-elect Donald Trump on the U.S. economy, repeated on Monday by Vice Chair Stanley Fischer, is crystal clear: Use the power of the public purse to make American workers more productive.
Fischer's remarks followed similar comments last week from Chair Janet Yellen and New York Fed President William Dudley, hammering away at the message that fiscal stimulus should be crafted not just to give the economy a short-term boost, but to address a longer-term trend that appears to be sapping growth in developed economies.
Fischer also said the economy had moved "back to the vicinity" of the central bank's targets on employment and inflation, reinforcing the message the Fed is likely to raise interest rates when officials gather in Washington Dec. 13-14. Investors see a 98 percent probability of a quarter percentage point increase at that meeting, according to pricing in federal funds futures.
"Unease with the economy reflects a number of longer-term challenges, challenges that will require a different set of policy tools than those used to address nearer-term cyclical shortfalls in growth," Fischer told the Council on Foreign Relations in New York. 
Despite years of record low interest rates, the economy continues to struggle with slow growth. Gross domestic product in the U.S. is expected to expand only 1.6 percent this year, according to a Bloomberg survey of 72 analysts.
Infrastructure Investment
Productivity and living standards, he said, could be raised through investments in infrastructure and education, as well as by policies that encourage private investment and improve regulation. That, he added, could help address the concern of many central bankers that governments have relied too much on monetary policy without adding fiscal stimulus to help spur growth in recent years.
"It's the only game in town because the other guys didn't want to play," he said, referring to monetary policy.
Fischer warned, however, that officials need to be cautious about fiscal measures when unemployment was below 5 percent and federal debt already elevated.
"We're very close to full employment," Fischer said. "We don't have a lot of room to increase the deficit without adverse consequences down the road."
Responding to questions, Fischer said he wasn't concerned by the plunge in bond prices since Trump's surprise victory on Nov. 8. The yield on 10-year U.S. Treasuries has risen by almost half a percentage point.
Not Unusual
"Forty basis points is a lot, but it's not that unusual," he said. "We still have low long-term interest rates."
Fischer also signaled that Yellen and the Federal Open Market Committee, while having spoken frequently about drawing more Americans into the workforce, wouldn't tolerate a significant overshoot on inflation.
"The chair and the rest of the FOMC is going to stay focused on the inflation issue as well," he said.
Yellen, while testifying on Capitol Hill Nov. 17, and Dudley, speaking to reporters on Nov. 18, each said lawmakers and the White House should focus on raising productivity. Like Yellen, Fischer pointed to data showing productivity growth -- the rate at which output-per-hour is increasing -- had been cut in half since 2006 compared to the average since World War II.
"This halving of productivity growth, if it were to persist, would have wide-ranging consequences for living standards, wage growth, and economic policy more broadly," Fischer said.