Firing NSA Chief Would Be 'Extremely Reckless,' Nunes Says
By and
Comments follow reports that DNI, Pentagon want Rogers gone

'Knives are out' to get NSA and Cyber Command director: Nunes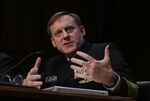 Removing the head of the National Security Agency and U.S. Cyber Command would be "extremely reckless" and leave the U.S. vulnerable to security threats during a delicate time of presidential transition, said House Intelligence Committee Chairman Devin Nunes.
Nunes, a California Republican, commented in an interview Monday after a Nov. 19 report in the Washington Post said that Defense Secretary Ash Carter and James Clapper recommended that Admiral Michael Rogers be removed as the head of both agencies.
Carter has grown increasingly frustrated with Cyber Command and Rogers for a lack of progress in countering Islamic State's cyber operations, according to a U.S. official who asked to not be identified discussing internal deliberations.
Clapper's motivation for removing Rogers would be to split the leadership roles of the NSA and Cyber Command and to have a civilian in charge of the NSA, according to the Washington Post report. Clapper already has submitted his resignation as Director of National Intelligence in anticipation of the new administration.
The Pentagon and Office of the Director of National Intelligence declined to comment when contacted by Bloomberg, while the NSA didn't respond to requests for comment.
To date, no reason has been communicated to the intelligence committee to justify firing Rogers, and intelligence leaders haven't informed the panel that the chief of the NSA and Cyber Command was failing in his duties, Nunes, a California Republican, said in the phone interview.
'Snake Pit'
"The knives are out to get Rogers," Nunes said, describing elements of the intelligence community as a "snake pit."
Rogers took over NSA and Cyber Command in 2014 in the wake of former contractor Edward Snowden's disclosures of secret surveillance programs. The NSA was bruised earlier this year by revelations that another of its contractors was accused of stealing millions of pages of data over 20 years. That followed an incident in August in which an online group called ShadowBrokers posted two encrypted dossiers with what appeared to be highly classified NSA hacking tools to online file-sharing sites.
President Barack Obama this weekend called Rogers "a terrific patriot" and declined to say whether he would seek his resignation.
Nunes, who is serving as an adviser to President-elect Donald Trump's transition team, said he believes Rogers is doing an excellent job and would support him as the next director of national intelligence under Trump.
Rogers, 57, met last week with Trump in New York as his name surfaced as a potential replacement for Clapper. Discussions about the possibility of removing Rogers occurred before that meeting, the official said.
Decision Shelved
The intelligence committee has asked Clapper and Carter, or their aides, to confirm Monday whether a recommendation has been made to remove Rogers and, if so, why.
Clapper and Carter have formally recommended that the NSA and Cyber Command be split apart, a second U.S. official said. For now, that recommendation has been shelved during the presidential transition, but a new leader for each agency could be chosen if the plan goes forward.
Nunes said in a Nov. 19 letter to Carter and Clapper that he has been "consistently impressed" with Rogers' leadership and accomplishments.
"His professionalism, expertise, and deckplate leadership have been remarkable during an extremely challenging period for NSA," Nunes said, using a term for leaders who set the tone for their teams. "I know other members of Congress hold him in similarly high esteem."