Facebook to Hire 500 New Staff in Major U.K. Expansion
By
London headcount to increase to 1,500 with new HQ move

Number of roles to focus on high-skilled engineering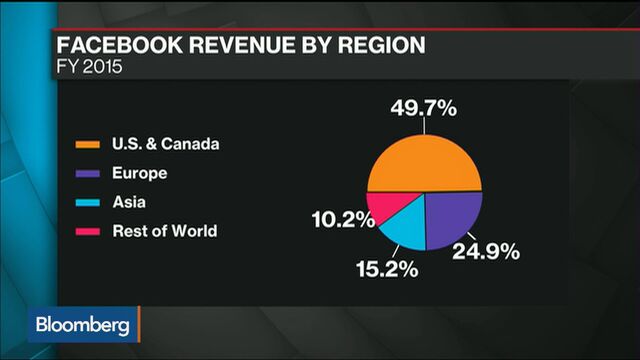 Facebook Inc. is to increase its U.K. headcount by 50 percent, hiring 500 new staff and backing the U.K. capital as an important technology hub.
The social media company is moving to a new London headquarters in 2017, and has plans to up its headcount from 1,000 to 1,500, the company said in a statement Monday.
"Many of those new roles will be high-skilled engineering jobs," said Nicola Mendelsohn, Facebook's vice president for the EMEA region. "The U.K. remains one of the best places to be a tech company and is an important part of Facebook's story."
At a speech Monday given to the annual conference of the Confederation of British Industry, a lobby group, Mendelsohn also said the U.K. needs to avoid shutting itself off to the global economy due to competition from rival tech hubs such as Berlin and Tel Aviv. She said the movement of talent across European borders is "very important" to the company.
"We need to make sure we continue to look outward and not inward," Mendelsohn said. "We need to stay competitive."
Google, Apple
The announcement extends a recent string of similar promises made by major U.S. tech companies regarding their plans in the U.K.
Last week Google cemented plans that it would expand in the U.K., saying it will go-ahead with plans to complete a new London office that can hold as many as 7,000 workers -- 3,000 more than a spokesman said it currently employs in the U.K.
Apple Inc. said in September it is leasing about 500,000 square feet (46,451 square meters) of office space at Battersea Power Station on the south bank of London's River Thames.
Facebook arrived in London in 2007, and the U.K. is now home to its largest engineering base outside of the U.S. Its Workplace offering, which lets employees collaborate with one another on products, was developed in the U.K. capital.
In the statement on Monday, Facebook noted the breadth of nationalities -- over 65 -- it employed in London.
Multinational companies in the U.K. have been busy grappling with the U.K.'s plans for leaving the EU -- in particular whether they will be easily able to hire workers from the bloc.
— With assistance by Eric Pfanner
Before it's here, it's on the Bloomberg Terminal.
LEARN MORE