De Blasio Says He'll Protect New Yorkers From Excesses of Trump
By
NYC's mayor vows to sue the feds to stop Muslim registration

With 2017 re-election, Democratic mayor will run against Trump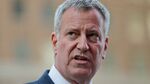 New York Mayor Bill de Blasio delivered a campaign-style rebuke to President-elect Donald Trump on Monday, vowing to resist federal efforts to deport undocumented immigrants, push more aggressive police actions against minorities or remove health services from women and the poor.
The mayor, a Democrat who faces re-election in 2017, said the city would sue to block a U.S. government registry of Muslims if the Republican president-elect created one. He spoke at Cooper Union, where Abraham Lincoln in 1860 delivered a historic speech on slavery.
"We worry about a nation that was meant to be inclusionary becoming exclusionary," de Blasio said. "We worry about deeper division. We worry about the negation of the American dream."
The speech was the clearest sign yet that de Blasio intends to pitch his 2017 re-election effort holding himself and his city out as bulwarks against Trump administration policies. Democrats outnumber Republicans by more than 6-to-1 in New York City, where Hillary Clinton won close to 80 percent of the vote during the Nov. 8 election.
"He's obviously running against Trump for re-election and there's a double-edged sword here," said George Arzt, a Democratic political consultant who served as press secretary to former Mayor Edward Koch in the 1980s. "While his poll numbers have been going up because of his attacks on Trump, in the final analysis, people will be asking 'why isn't he fixing this or fixing that?' The mayoralty is all about delivering local services, and while he yearns for the national spotlight it's a perilous game."
New Poll
De Blasio, 55, was buoyed by a Quinnipiac University poll last week that reported him well ahead in a hypothetical Democratic primary campaign. The poll showed the mayor with 47 percent approval, his best score since January. Still, 49 percent of the city's voters feel he doesn't deserve re-election, compared with 39 percent who say he does.
The mayor has been linked to at least five investigations into allegations that campaign donors received illegal favors such as government business. He has denied wrongdoing.
His past efforts to assume a national role as spokesman for the progressive wing of the Democratic Party have had mixed results. His attempt to build a coalition that would influence the presidential campaign fell flat after most candidates ignored him, and U.S. Senator Bernie Sanders of Vermont took up his anti-Wall Street fight against income inequality in his campaign.
At the Democratic National Convention in July, de Blasio was relegated to a non-prime time speech, after fraying his relationship with Hillary Clinton by delaying his endorsement of her for months.
Back home, a continuing feud with Governor Andrew Cuomo and a failed effort to unseat state Senate Republicans has forced de Blasio to struggle to gain funds for city schools and affordable housing. Homelessness has increased on city streets, and reached record numbers of more than 60,000 in city shelters.
In his speech, de Blasio portrayed himself as the protector of the various constituencies upon which he built his 2013 election by the largest plurality ever for a non-incumbent. Those groups, he said, feel aggrieved and fearful in the aftermath of Trump's election.
"To all of you, we will protect you," the mayor said. "This is your home."
Before it's here, it's on the Bloomberg Terminal.
LEARN MORE