Corbyn Says U.K. Business Concerned by 'Hard Brexit' Threat
By and
Pullout from EU single market would be 'very very damaging'

U.K. will have to negotiate on customs union, Corbyn says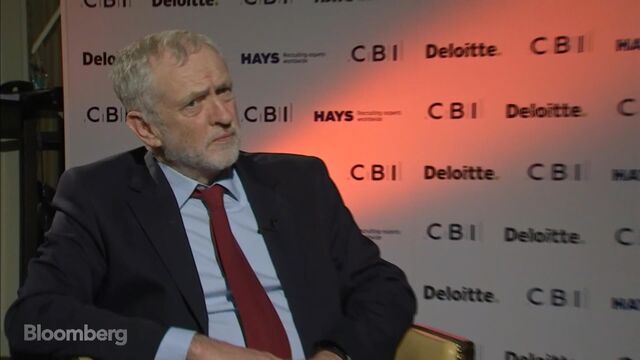 Opposition Labour Party leader Jeremy Corbyn said business leaders and trade unions have expressed concern that Britain is heading for a "hard Brexit" that would be "very very damaging" for the U.K.
As Prime Minister Theresa May prepares for negotiations to leave the European Union, Corbyn said his party will campaign for continued access to the bloc's single market and called on May to set out her plan and a timetable once talks are triggered by the end of March next year.
"A hard Brexit where you end up in a tariff war between Britain and Europe, when more than half of our trade is with Europe, would be very very damaging indeed," Corbyn said in a Bloomberg Television interview at the Confederation of British Industry's annual conference in London on Monday. "I've had plenty of concerns expressed, every business I've met, every trade union I've met, every group of residents and workers I've met are concerned about it."
Corbyn said Britain will have to negotiate membership of the EU customs union, adding that, while his party wants access for British companies to trade, it should not sacrifice the right to renationalize companies and intervene in struggling industries such as steel in order to guarantee market access.
"The issue is also about questions of the power of national governments to invest in their own industries and also the power of national governments to take industries, such as rail companies, into public ownership," Corbyn said. "We don't wish to join an organization that restricts us in doing that."
Human Rights
The Labour leader said he's seeking "to be able to trade with the rest of the world, but also have a human-rights and environmentally sustainable agenda on trade policies as well, and I'm not convinced that would be possible."
Corbyn said the vote to leave the EU, like the election of Donald Trump in the U.S., was a cry from the victims of a "failed economic consensus" that needs to be overhauled.
"Both Britain's decision to back Brexit and the election of Donald Trump are an unmistakable rejection of a political establishment and an economic system which hasn't been working for most people," Corbyn said in a speech to CBI delegates. "It's a system that's delivered ballooning inequality along with falling or stagnating living standards for the majority."
The concerns of those "left behind" by globalization need to be addressed through greater government intervention and investment in public services. He called on Chancellor of the Exchequer Philip Hammond to reverse cuts to government support for workers and introduce a "real living wage" in Wednesday's Autumn Statement.
Corbyn asked business leaders to be prepared to pay more tax and communicate better with their workers in exchange for government investment in innovation and development if Labour wins power.
"Labour will be on the side of the innovators, entrepreneurs and investors that our economy and our workforce need. We will use public intervention to unleash the creativity and potential of entrepreneurial Britain," Corbyn said. "In return, we ask you to be open to listening to the workforce, in the boardroom as well as the shop floor. Open to investing in Britain, and paying a bit more corporation tax to make this country more productive and fairer."
Watch Next: U.K. Trade and 'Hard Brexit' Warnings Add Concern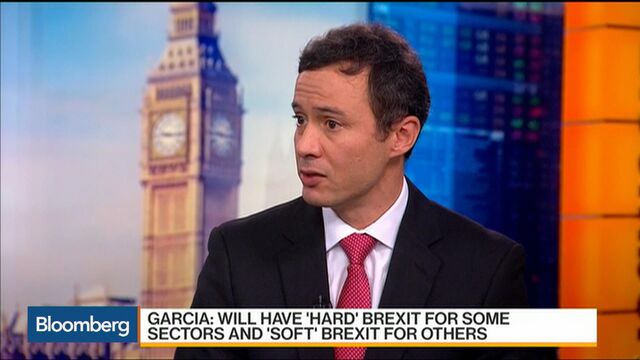 Before it's here, it's on the Bloomberg Terminal.
LEARN MORE