Brexit Means Fewer Poles Interested in Work Abroad, Study Shows
By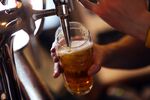 People in Britain may soon have to look elsewhere to find someone to fix their pipes, make their pies, or serve their pints.
With about 1 million Poles already working in the European Union's second-biggest economy, the number now considering leaving the ex-communist country to labor abroad has dropped by more than a third following the U.K.'s vote to leave the bloc, according to a study published Monday.
Only 12 percent of people working in the country of 38 million are considering emigration, a record low and drop of 7 percentage points from the previous survey in March, according to the poll concluded in September by Work Service SA, a recruiting and human resources company.
With U.K. Prime Minister Theresa May's government giving no clear indication of how foreign workers will be treated after her country leaves the EU, enthusiasm among Poles and other nationals from the EU's poorer eastern members for working in the U.K. has fallen. A rise in attacks against foreign workers has also chilled enthusiasm. In Poland, record low unemployment of 8.3 percent and wages that rose 3.6 percent in October from a year earlier have given employees more reasons to stay home, even as economic growth slows.
"Instability in Europe amid Brexit and a lower sense of security may be factors driving down the amount of Poles that consider emigration," Maciej Witucki, chief executive officer for Work Service said in an e-mail. "Even if Poles are aware of weaker macroeconomic data, they're choosing to stay rather than risk emigration."
After Germany surpassed the U.K. last year as the favorite destination for work abroad among Poles, the two countries remained first and second this year, according to the survey. The U.S. climbed to third - even with Spain and Norway - with Work Service citing increased concern over terrorism in Europe for its advance.
"Every two out of five Poles believe that terrorist attacks in Western Europe are a negative factor in decisions to emigrate," Witucki said.
Before it's here, it's on the Bloomberg Terminal.
LEARN MORE