Brexit Impact Prompts BOE Plan to Increase Deposit Guarantee
By
BOE plans to return deposit protection level to 85,000 pounds

Pound has fallen over 11 percent against euro since referendum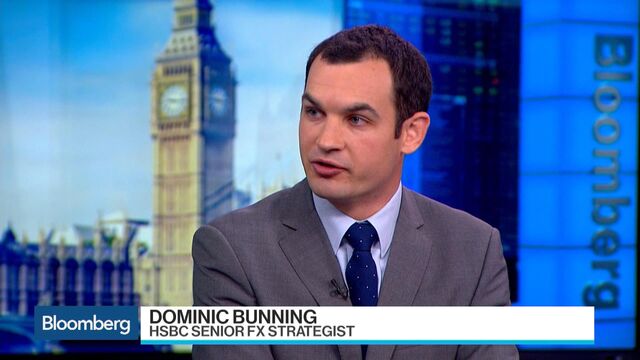 The Bank of England may boost the amount covered by the U.K.'s bank deposit guarantee after the vote to leave the European Union caused the pound to plunge.
The BOE's Prudential Regulation Authority proposed to restore the limit to 85,000 pounds ($105,000) from 75,000 pounds, the level set in July 2015. EU law required non-euro member states to adjust their deposit guarantees at that time to the equivalent of 100,000 euros, the PRA said on Monday.
"Taking into consideration the developments in financial markets" following the June 23 Brexit vote, including with respect to the pound-euro exchange rate, the PRA "considers that a structural shift in the exchange rate has occurred," the regulator said. "These events were unforeseen when the U.K. limit was reduced in 2015."
The pound has fallen about 11 percent against the euro since the referendum amid concern about the potential economic impact of lost access to the EU's single market.

The proposal "is intended to provide a measure of memorability and consistency," the PRA said. The regulator will "continue to monitor fluctuations in the exchange rate but, barring unforeseen events, will seek to avoid making further adjustments to the deposit protection limit."
A series of changes to the deposit-guarantee limit during the past decade have carried a cost and the nation's impending exit from the EU offers a chance to bring them to an end, according to Andrew Tyrie, head of the Treasury Committee in the British Parliament.
"The absurd situation, in which the U.K. is left vulnerable, at the discretion of the European Commission, to frequent changes in our deposit scheme, must be brought to an end," he said in a statement. "Brexit should give the U.K. the opportunity to set its own level of protection. We should take it."
The proposed change would go into effect from Jan. 30, 2017, and firms would have six months after that date to implement necessary changes to their systems, according to the PRA.
The new level of 85,000 pounds is equivalent to 99,000 euros at Monday's exchange rate, slightly below the EU minimum. The PRA's consultation period ends on Dec. 16.