business
Brexit Bulletin: Take Care, Cliff Edge Ahead
May asks business to back fairer capitalism, as Hammond warns of a "sharp challenge" ahead.
By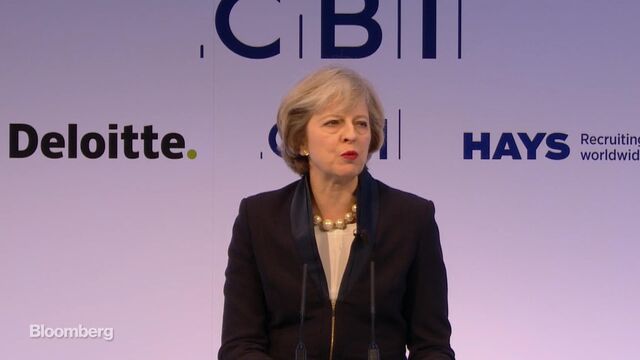 Sign up to receive the Brexit Bulletin in your inbox, and follow @Brexit on Twitter.
Prime Minister Theresa May is continuing to reboot her relations with businesses.
Addressing the Confederation of British Industry, May said she plans to make Britain's corporate tax the lowest among the major economies, and pledged to spend £2 billion a year on research and development. She also watered down plans for appointing workers to company boards.

She registered the lobby group's warning about a potential "cliff edge" scenario, in which the U.K. might leave the European Union before lining up a fresh trade deal, telling delegates: 
"We want to get the arrangement that is going to work best for the U.K. and the arrangement that is going to work best for business in the U.K."
Relations between government and the corporate lobby group have been topsy-turvy this year. Most businesses argued against Brexit and then expressed concern that May's focus on immigration curbs risked jeopardizing Britain's ability to draw talent and boost trade. She was also criticized for attacking "elites" and for plans – later shelved – to ask firms how many foreigners they employ.
The good news for May and the CBI is that a survey of 800 businsses released today showed 70 percent plan to increase or maintain their spending on innovation after the referendum.

Hammond Time
Chancellor of the Exchequer Philip Hammond is also engaging with businesses, saying yesterday they should brace for two years of uncertainty as this week's budget report seeks to ready the economy for life outside of the EU.
"Business likes certainty and that's one of the challenges we face over the next couple of years," he told ITV's "Peston on Sunday" program. 
He used a separate appearance on the BBC's "Andrew Marr Show" to say there is a "clear objective of getting the best possible deal" for companies and that the government will "argue very strongly for maximum access" for the finance sector. He played down talk of splits by saying May's Cabinet is "coming together" on a strategy, which he declined to detail.
Hammond won't have much fiscal room to prop up the economy in this week's Autumn Statement (often described as a "mini-budget") as he acknowledged an "eye-wateringly" large debt. Ernst & Young said in a weekend report that slower growth will trim tax revenue, forcing government to borrow more than what was forecast in March.
Banks Told Not to Rush
Banks looking to move to the continent to escape Brexit have been told not to stress about beating the competition.
European Central Bank officials have advised executives there will be no first-mover advantage when it comes to gaining regulatory approvals in the region, Bloomberg's Gavin Finch reports.
To avoid any potential bottlenecks in the process, policy makers are considering allowing banks to use their U.K.-approved internal risk models for an extended period until euro-area regulators are able to hire more staff and perform their own assessments, said one of the people.
Continental Politics
It was a busy weekend for politics on the continent with German Chancellor Angela Merkel announcing she will seek a fourth term in office and former Prime Minister Francois Fillon knocking former President Nicolas Sarkozy out of the race for the French presidency.

While bashing Britain may do well on the campaign trail, May could have a friend in Poland, where the government is concerned inflammatory rhetoric from the rest of the EU could mean looser cooperation with the U.K. afterwards.
"I propose a glass of cold water to cool emotions, so that in the end it doesn't turn out that we all lose – both the EU and the U.K.," President Andrzej Duda told Bloomberg. He said there was danger that a "group of obstinate politicians" will "attempt to punish the British people, or the U.K., for daring to leave the EU."
Brexit Bullets
60 Conservative lawmakers want to cut access to the customs union and single market, Sunday Telegraph says
U.K. hopes U.S. President-elect Donald Trump will sign a "statement of intent" in trade talks within months of taking office, and May is planning a January trip to the U.S., the Telegraph says
Debt funds see bigger property returns after referendum 
Denmark takes "hard Brexit" line despite being British ally, says Financial Times
Citigroup may move investment services to Madrid, says El Confidencial
Supermarkets brace for higher food prices: Gadfly 
Former government official Letwin says May should drop Brexit case appeal to Supreme Court
29 percent of young people in the U.K. are considering leaving, says Intrum Justitia
Bank of England needs a female, northern Brexiteer: Bloomberg View's Mark Gilbert
And Finally…
Hammond may not be the most important Philip in Westminster.
Bloomberg's Tim Ross and David Hellier reported late on Friday that May is deploying her husband Philip, who has worked in finance for more than three decades, to help her charm business leaders.
The Mays are hosting chief executives of some of the U.K.'s biggest companies at a series of dinners in an effort to reassure them that the premier understands their concerns, according to three people who asked not to be named discussing private arrangements. Bosses are invited to bring their partners with them to create a cordial and relaxed atmosphere, they said.
For more on Brexit follow Bloomberg on Twitter, Facebook and Instagram, and see our full coverage at Bloomberg.com
Before it's here, it's on the Bloomberg Terminal.
LEARN MORE