Brexit Banks Told to Relax: ECB Won't Give First-Mover Advantage
by
ECB considering fast-tracking regulatory approvals process

Euro policy makers already talking with U.K. on risk models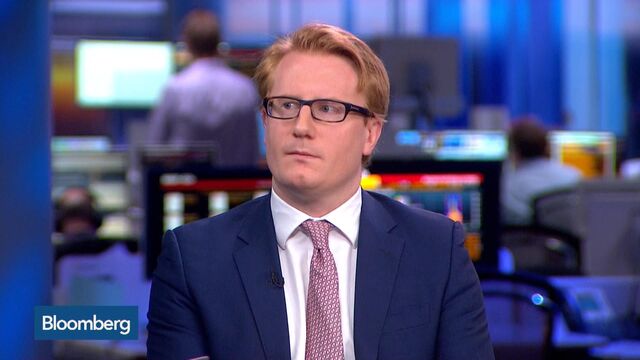 Finance executives planning to shift operations out of the U.K. because of Brexit have been told by European Central Bank officials not to rush as there will be no first-mover advantage when it comes to gaining regulatory approvals, according to people briefed on the discussions.
To avoid any potential bottlenecks in the process, policy makers are considering allowing banks to use their U.K.-approved internal risk models for an extended period until euro-area regulators are able to hire more staff and perform their own assessments, said one of the people, who asked not to be identified because the deliberations are private. No formal talks have taken place and no decisions reached, the person said.
Follow @Brexit for the latest news, and sign up to our Brexit Bulletin for a daily roundup.
Banks are bracing for the worst -- the loss of their right to sell services freely around the EU from London -- and are set to start the process of moving operations to the euro zone within weeks of the government triggering Brexit, which is scheduled to happen by the end of March. British Bankers' Association head Anthony Browne said last month that bankers' hands are "quivering over the relocate button."
The ECB's Single Supervisory Mechanism, which began overseeing the currency bloc's largest lenders two years ago, is preparing to deal with an influx of requests from global banks with their European headquarters in London, Sabine Lautenschlager, the vice chair of that organization's supervisory board said Tuesday. Many banks have already reached out to the ECB, she said.
Grandfathering Precedent
We have "a task force which looks into all of the different scenarios, thinking about what does this mean with regard to passporting or no passporting, what does it mean with the whole question of authorizations and model approvals," Lautenschlager said in Frankfurt, adding that supervisors are already in talks with the U.K.'s Prudential Regulation Authority.
Spokesmen for the ECB and PRA declined to elaborate on the nature of these discussions.
While the regulator may be able to expedite approvals, the overall process of moving people and operations abroad will still take time, forcing banks to make decisions soon, Ignazio Angeloni, a board member at the ECB's supervisory arm, said this week.
And even reaching a common position within the SSM, which includes appointees from 19 euro-area nations as well as the ECB, might not be easy. On Friday, Finland's top bank supervisor Anneli Tuominen, said the ECB would welcome banks as long as they weren't looking to exploit gaps in regulation.
There is precedent for the so-called grandfathering of model approvals. When the ECB assumed its oversight role in 2014 it didn't initially authorize models, relying instead on the previous judgments of national supervisors. It only began a review -- still ongoing -- of the thousands of risk models nearly two years ago.
"Grandfathering the risk models would be the most logical approach," said Jan Putnis, a partner at law firm Slaughter and May in London. "There is no real alternative in the short term. But this will require close co-operation between regulators, not least because the models might require adjustment during the grandfathering period. These arrangements could become very complicated."
Before it's here, it's on the Bloomberg Terminal.
LEARN MORE