Xi, Obama Stress Stable Relations Important at 'Hinge' Moment
By , , and
Relations with China likely to be shaken up by Donald Trump

Obama warns students that democracies can 'rot from within'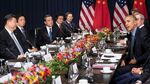 U.S. President Barack Obama and China's Xi Jinping stressed at a meeting the importance of continued stable relations between the world's two biggest economies at a time the Chinese leader described as a "hinge moment" following the election of Donald Trump.
Obama and Xi acknowledged "the uniquely consequential nature of U.S.-China relations" and the need to forge a more stable and productive bilateral relationship, the White House said in a statement after the two presidents met at the Asia-Pacific Economic Cooperation forum in Lima.
Relations with Beijing seem likely to be shaken up when President-elect Trump takes the reins in January. The Republican blames China for taking U.S. jobs, and has said he will instruct his Treasury secretary to label the country a currency manipulator.
"We meet at a hinge moment in the China-U.S. relationship," Xi said before he met Obama. "I hope the two sides will work together to focus on cooperation, manage our differences, and make sure there is a smooth transition in the relationship and that it will continue to grow going forward."
Human Rights
Obama and Xi discussed areas of disagreement at the pair's ninth meeting, including human rights, state-sponsored hacking and territorial and maritime disputes involving China, according to a White House statement released after the meeting.
"The President encouraged China to advance reforms that will help it to shift to a sustainable, domestic consumption-driven economic model, including reforms of state-owned enterprises and efforts to strengthen its financial system, and transition to a market-determined exchange rate in an orderly manner," the statement read. "The President also underscored the urgency of addressing excess capacity in industrial sectors."
The issue of climate change, in which the U.S. and China have played a pivotal role in recent years, was also raised during the meeting. Both leaders commented on the "progress in helping to galvanize the international response to climate change that will provide an enduring benefit to the international community," according to the statement.
Read more: The Potential Trump-China Trade War -- a QuickTake
Obama earlier used the final public event of his last foreign trip as commander in chief to offer some veiled advice to Trump, cautioning that "you shouldn't ignore the past, you should learn from it."
Democracies "rot from within" if they cease to protect press freedoms, an independent judiciary and the rights of minorities, Obama said during a town-hall style meeting with young Latin American leaders at the Pontifical Catholic University.
The outgoing president told students that for all of its merits, "democracy can be frustrating" and that "the outcomes of elections don't always turn out the ways that you hope. We're going through that in the United States."
"Change generally doesn't happen overnight," Obama said, and it's important to remember the U.S. has had "amazing" changes in the past half-century. Still, "societies don't move immediately" and "sometimes you take two steps forward and you take one step back," he said.
Trade Tensions
Obama said he expects "no major changes" to U.S. relations with Latin America, including Cuba, after the new administration takes office, although tensions on trade are likely to increase.
Obama's remarks came in response to questions that touched broadly on democracy, development, women's rights and the European alliance, and that only once mentioned Trump directly.
The president's answers weaved between principles that can apply to any nation and examples of the U.S. experience. The forum came as Obama and his aides privately consider the policy implications of Trump's newly-announced choices for top administration positions, including Alabama Senator Jeff Sessions for attorney general and retired Lt. General Michael Flynn for national security adviser.
Between them, Sessions and Flynn have taken positions on Muslims, immigration, torture and gay and minority voting rights that have raised objections by civil rights advocates.
Obama said he's hopeful immigration policy under Trump will continue to "invite talented young people to come in and continue to make a good life for themselves." He didn't address another issue -- what Trump's election will mean for about 750,000 young undocumented immigrants who submitted personal information to a government program meant to protect them from deportation.
As he did after the election, Obama said the incoming administration should be given space. He implored people at home and abroad to "not make immediate judgments but give this new president-elect a chance" to put his team together.
— With assistance by Laura Litvan
Before it's here, it's on the Bloomberg Terminal.
LEARN MORE