Sarkozy Out of French Presidential Race After Fillon Surge
By , , and
Fillon has momentum for next week's run-off against Juppe

Both candidates cut political risk in France, Berenberg says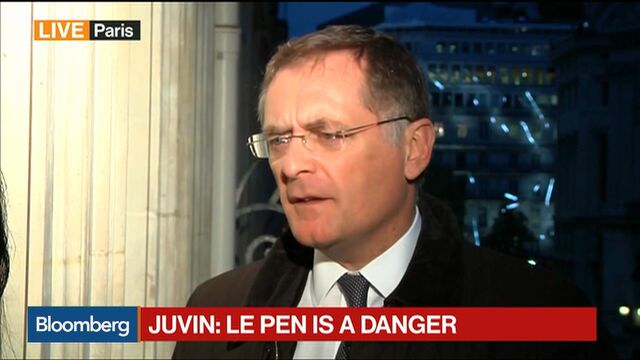 A last-minute rush of support for former Prime Minister Francois Fillon in the center-right primary saw Nicolas Sarkozy knocked out of the French presidential race at the first hurdle.
With more than 90 percent of polling stations reporting, Fillon, 62, had 44 percent of the vote with long-time front-runner Alain Juppe second on 28 percent, according to election officials. Sarkozy was third with 21 percent. Fillon and Juppe will now face each other in a run off next Sunday.

After trailing a distant third or even fourth for months in opinion polls, Fillon now leads the race to take on Marine Le Pen's anti-European platform in next year's election thanks to voters on the right who wanted neither a Sarkozy comeback nor Juppe's softer approach on the economy and social issues. Polls suggest that whoever the Republicans nominate is likely to face the National Front leader in the two-way presidential run-off in May, since Socialist incumbent Francois Hollande is posting the worst approval ratings in French history.
"Good news for Europe," said Holger Schmieding, chief economist at Berenberg economics in London. "The risk that a widespread yearning for change in France could sweep far-right Marine Le Pen to power next year has receded."
Angela Merkel's announcement Sunday that she'll seek a fourth term as German chancellor despite the backlash against her immigration policy offered further encouragement to mainstream parties in Europe.
Watching France
Since Donald Trump's surprise victory in the U.S. presidential contest less than two weeks ago, France's 2017 election has become a closely-watched battle between populist and establishment forces. The anti-euro, anti-immigrant Le Pen has consistently polled as the strongest candidate heading into the first round of the general vote that is scheduled for April 23.
For a more detailed picture of France's political landscape, click here.
A BVA poll taken in September showed Fillon would win the presidential election against Le Pen, 61 percent to 39 percent, but he would trail her in the first round, with just 19 percent support against her 33 percent. The same poll showed Juppe would beat Le Pen in both rounds, with a 66 percent against 34 percent victory in the final round.
Fillon has consistently struck a harder line than Juppe on everything from government spending to issues relating to Islam and same-sex couples. The 62 year-old wants to lengthen the workweek to 39 hours from 35 and to increase the retirement age to 65. In a recent book Fillon said the government must not have qualms about tackling issues related to Islam because it is the religion of terrorists. He also opposes the right of same sex couples to have medically assisted insemination.
"Voters are saying enough with taxes, enough with public workers and enough with the state. They chose someone who has the hardest line on that," said Bruno Cautres, a political scientist at Sciences Po in Paris. "Fillon is Sarkozy minus the show and the scandals."
Having held the position of favorite, Juppe has now dropped to second place and Fillon has the momentum. Both Sarkozy and fourth-placed Bruno Le Maire said they are backing Fillon in next Sunday's runoff. At Fillon's campaign headquarters in Paris, his supporters chanted, "We've won, we've won."
Juppe and Fillon are "two characters of great quality who do honor to the right," Sarkozy said in a televised statement. "Francois Fillon has better understood the challenges facing France, so I will vote for Fillon."
— With assistance by Geraldine Amiel
Before it's here, it's on the Bloomberg Terminal.
LEARN MORE