Park Faces Impeachment Threat as Prosecutors See Collusion
by and
Opposition leader Moon says strong reason to impeach Park

Park 'colluded' in influence peddling, prosecutors say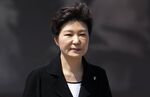 South Korean prosecutors said Sunday that President Park Geun-hye had a role in an influence-peddling case, prompting rivals to call for her impeachment.
While the observations by the investigators provided fresh ammunition to an opposition that's been clamoring for her resignation, Moon Jae-in, a top contender for president in opinion polls and the former leader of the main opposition Democratic Party of Korea, said there's a strong case for impeachment.
"Park deserves to be arrested and it's a shame," he said while meeting with other opposition presidential candidates over lunch Sunday. "We have a strong reason to impeach her. She has to discuss with lawmakers how to exit orderly first. We will help her resign with honor and keep that honor even after her exit if she steps down now."
Prosecutors earlier on Sunday said Park "colluded" with her former aides in a corruption case that has rocked the nation and that they have secured enough evidence to believe she played a role while her long-time confidante Choi Soon-sil extracted money from some of the country's biggest companies and gained access to classified information.
The presidential Blue House denied the allegations. "The results announced by the prosecutors' office are not true and are based on speculation and imagination," Park's spokesman Jung Youn-kuk said in a briefing on Sunday. Park's lawyer Yoo Yeoung-ha also rejected the allegations, according to a Yonhap report.
Attempted Coercion
Charges against Choi and a former presidential aide include attempted coercion and abuse of authority, while another aide was accused of leaking classified information, Lee Young-ryeol, the head of the Seoul Central District Prosecutors' Office, said in a televised briefing earlier on Sunday. Prosecutors will continue to investigate Park, Lee said. 
Park, the first South Korean president to be targeted as a suspect in a corruption investigation while in office, has asked for more time to prepare for her defense. Her approval rating has dropped to 5 percent, according to Gallup Korea.
The corruption probe widened to companies including Samsung Electronics Co. and Hyundai Motor Co. amid allegations the conglomerates provided about 77.4 billion won ($65 million) to two foundations controlled by Choi. "The companies could not help but follow the demands by Choi and An in fear of facing both direct and indirect disadvantages in their business activities," said Lee.
Apologized Twice
Samsung's headquarters was raided by investigators earlier this month and an executive of Hyundai Motor was summoned for questioning.
Park has shown few signs she'd step down any time soon despite protests that saw hundreds of thousands of people gather near the presidential compound in the past two weeks, demanding her resignation and arrest. Park has apologized twice to the nation for consulting Choi, which sparked allegations that her friend meddled in state affairs extensively for personal gain.
While South Korea's Constitution protects a president from being indicted, it still allows for an impeachment, which requires the approval of two-thirds of the 300-member National Assembly. Lawmakers from three opposition parties control a combined 165 seats, while Park's ruling Saenury Party has 129 seats. Six are with unaffiliated members.
While the opposition parties may fall short of the number, a rift within the ruling party may increase the risk of an impeachment motion for Park, said Choi Chang-ryul, a political commentator and professor at Yong In University.
"Opposition will now start contacting ruling-party lawmakers to start their impeachment procedure," said Choi. "While it's the prevailing view that any impeachment motion can be overturned by the Constitutional Court, I personally think it won't be that easy for the judges to do so given the public anger."
If Park were to resign, an election would have to be held within 60 days.
Before it's here, it's on the Bloomberg Terminal.
LEARN MORE