Obama Won't Comment on Whether NSA's Rogers Will Be Removed
By
Carter, Clapper said to be unhappy with U.S. cyber efforts

McCain says Rogers has been hampered in role by administration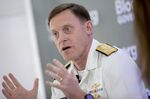 President Barack Obama called Admiral Michael Rogers "a terrific patriot" and declined to say whether he will follow calls by top Pentagon and intelligence officials to remove him as National Security Agency director and head of U.S. Cyber Command.
Rogers, 57, has been under consideration to serve as Director of National Intelligence by President-elect Donald Trump.
Defense Secretary Ashton Carter and James Clapper, the outgoing Director National Intelligence, recommended Rogers' removal in October, before the presidential election, but a decision was delayed, the Washington Post reported on Saturday, citing U.S. officials who spoke on condition of anonymity."
Rogers is "a terrific patriot and has served this country well in a number of positions," Obama said Sunday during a news conference at the end of the Asia-Pacific Economic Cooperation leaders' summit in Lima.
The president added that he generally doesn't comment on personnel matters, but that his administration has been looking at how better to organize cyber efforts to keep place with technological changes.
John McCain, chairman of the Senate Arms Services Committee, said on Sunday that suggestions Rogers should be removed were "unwarranted," and that any shortcomings of his performance were the fault of the Obama administration.
'Full Confidence'
"He has my full confidence, and I hope he will have further opportunities to serve our country," John McCain of Arizona said in an e-mailed statement.
"All too often, Admiral Rogers and the forces he leads have struggled to perform their mission because of the administration's inability to formulate a clear cyber strategy and provide sufficient authorities," McCain said.
Frustration with Rogers' performance is thought to have risen in October, when the FBI arrested an NSA contractor amid allegations he stole classified government documents that could cause "exceptionally grave damage" to national security if disseminated, according to a criminal complaint.
That raised new questions about the effectiveness of efforts that the NSA and other intelligence agencies have made after the revelations by NSA contractor Edward Snowden, who in 2013 disclosed the agency's collection of phone and internet data and its spying on foreign leaders.
— With assistance by Toluse Olorunnipa
Before it's here, it's on the Bloomberg Terminal.
LEARN MORE