French Thatcherite Upends 2017 Race Pledging to Shrink the State
By , , and
Ex-PM knocks out former boss Sarkozy in surprise victory

Fillon to face rival Juppe in final primary vote Nov. 27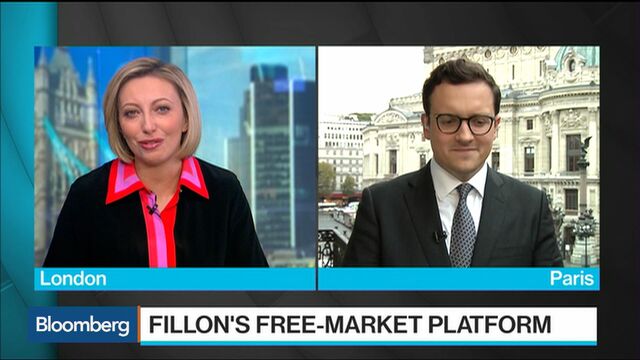 Former Prime Minister Francois Fillon, the new front-runner in France's 2017 presidential election, is offering voters an economic-policy revolution inspired by Margaret Thatcher.
Fillon, 62, vaulted from third position in most polls to win the first round of the Republican primary by 15 percentage points from the veteran Alain Juppe on Sunday with the most free-market platform among the seven candidates. They'll face each other again in next Sunday's runoff and the winner will be favorite to become president in May 2017.
Lifelong politician Fillon is pledging to lengthen the work week to 39 hours from 35, to increase the retirement age to 65 and add immigration quotas. He's vowed to eliminate half a million public-sector jobs and cut spending by 100 billion euros ($106 billion) over his five years in office. And he proposes a 40 billion-euro tax-cut for companies and a constitutional ban on planned budget deficits.
"Who is Fillon? The classic conservative, right-wing candidate," Bruno Cautres, a political scientist at the Sciences Po Institute in Paris, said in an interview. "He wants a deep reform of the French model: shrinking the role of the state and cutting the welfare system."
Compared with the brash style of former boss, Nicolas Sarkozy, Fillon has a more low-key approach but he makes a virtue of telling it straight. When he took office as premier in 2007, he shocked even Sarkozy by announcing that France was a bankrupt state. Today he's promising to reverse that, just like his role model when she became U.K. prime minister in 1979.
"Thatcher was elected after a long and worrying period of decline" in the U.K., Fillon said in a book setting out his candidacy. "When she left office, the U.K. was no longer the sick man of Europe."
Trump, Putin
Like Thatcher, Fillon may also find an affinity with the new Republican occupant of the White House. Fillon says he's ready to work with Donald Trump and the two men share an admiration for Russian President Vladimir Putin.
Fillon has said repeatedly that he wants France to have a closer relationship with Russia, and with Putin himself, who was prime minister during the period when Fillon ran the French government. While other European leaders have called for Putin to stop bombing Syria, Fillon described the attacks as "cold but efficient pragmatism."
Polls, albeit six months before the vote, suggest that whoever the Republicans nominate is likely to face National Front leader Marine Le Pen and her anti-European platform in the two-way presidential run-off in May, since Socialist incumbent Francois Hollande is posting the worst approval ratings in French history.
Late Surge
The challenge for Fillon will be to argue that he genuinely offers change for French voters: he entered parliament in 1981, was a minister in the 1990s and a prime minister for five years under Sarkozy.
"He's a candidate who carries the heritage of Sarkozy," Florian Philippot, vice-president of the National Front, said in an interview with BFMTV. "He's clearly pro-free markets, for austerity, and will cut civil service jobs. It's a violent economic program under the tutelage of the European Union. "
Fillon had been trailing in third and even fourth place throughout the primary campaign, before surging in the final week after several successful debate performances. On Europe, he wants France to stay in the euro and the Schengen free-travel zone, though with greater coordination of economic policies and reinforced external borders.
"He's Sarkozy, but more serious, without the excesses," Europe1 radio said in an editorial. The conservative Figaro newspaper said he's "firmer than Juppe, calmer than Sarkozy, he personifies a tranquil right." The leftist Liberation attributed his win to the "well-behaved bourgeoisie who prefer a refined political reaction to Le Pen-style fireworks."
Jacky Ickx
A native of the farming region of La Sarthe in western France where the Le Mans 24-hour car race is held each year, Fillon on Sunday night compared his performance in the primary to the legendary Belgian driver Jacky Ickx, who won the race in 1969 after running in last position early on. Fillon has raced cars himself and is also a keen mountain climber.
"We are several laps ahead," he told a crowd of supporters chanting "Fillon President!" at the Cafe Dauphine on the left bank of the Seine on Sunday night. "Together, we are going to set out a strong new path for France."
A practicing Catholic, Fillon and his Welsh wife, Penelope, have five children. On social issues, he's tended to take up positions that were tougher than Juppe's though not so extreme as Sarkozy's. He said the government must have no qualms about tackling issues related to Islam, because it is the religion of terrorists. He also opposes the right of gay people to have medically assisted insemination, though he has pledged to preserve same-sex marriage.
Fillon held four different ministerial positions before Sarkozy named him prime minister in 2007. While they were in office together, Sarkozy referred to his prime minister as an "assistant." Now the assistant's unexpected surge in support may have ended the political career of the former president.
For much of the campaign, Fillon's own bid for a political comeback looked set to end in ignominy as he trailed in fourth place behind Bruno Le Maire, who'd served as Agriculture Minister in Fillon's government. Yet Sarkozy's increasingly populist rhetoric opened up an opportunity for an alternative candidate on the right.
Fillon "offers a radical platform," Bruno Ratailleau, a Republican senator and Fillon supporter, said in an interview on LCP television. "The French people don't want half measures."
Watch Next: The Changing Face of European Politics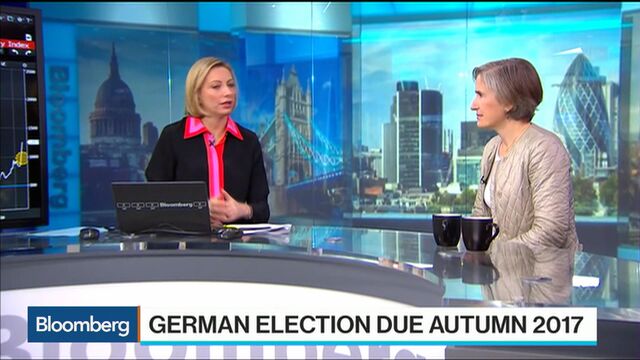 Before it's here, it's on the Bloomberg Terminal.
LEARN MORE