Credit Suisse's Swiss Unit Kicks Off Operations Ahead of IPO
by
Share sale planned for 2017 central to Thiam's turnaround plan

Bank takes out full-page newspaper ads to reassure public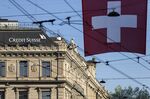 Credit Suisse Group AG's Swiss unit began life as a legally independent company, enabling the bank to pursue plans to sell part of the business in a public offering next year.
In carving out a separate entity, Credit Suisse also fulfills a regulatory requirement to make banks easier to break up in a crisis, the bank said in a statement Monday. Credit Suisse (Schweiz) AG has its own license, allowing the local business to keep functioning if its parent has to file for bankruptcy. Swiss rival UBS Group AG has also created a domestic subsidiary in recent years.
Switzerland is a cornerstone of Chief Executive Officer Tidjane Thiam's plan for raising capital as he reshapes the company to focus on wealth management. The bank is looking to raise 2 billion francs ($2 billion) to 4 billion francs through a sale of 20 percent to 30 percent of the Swiss business. The public offering is slated for late next year.
The launch is an "important milestone in the implementation of our group strategy," Thiam said in the statement. It will "clearly demonstrate the value of our Swiss business and create positive momentum in the interest of our clients."
The bank took out full-page ads in several Swiss newspapers Monday, saying the move would allow Credit Suisse to focus more on its home market. Some local media have speculated that the bank might eventually sell the entire Swiss business.

The Swiss unit, a so-called universal bank that offers private banking and asset management as well as retail and corporate services, contributed 29 percent of group revenue in the first nine months of this year and had the highest pretax profit of all the bank's units. It also employs the biggest chunk of employees -- 13,440 at the end of September.
In recent months, executives at a number of Swiss banks have questioned Credit Suisse's ability to reach its profitability targets at the Swiss business. The Zurich-based bank is aiming for a pretax profit of 2.3 billion francs by 2018 at the unit, up from 1.7 billion francs in 2015.
Credit Suisse's shares were little changed Monday after dropping about 35 percent this year amid a selloff in European banks as investors question business models under pressure from regulatory costs, record-low interest rates and market uncertainty. Swiss banks are also having to contend with negative rates on their central bank deposits and an erosion of the country's tradition of bank secrecy.
Earlier this month, the head of Swiss operations, Thomas Gottstein, reshuffled management of the division, putting Didier Denat in charge of corporate and investment banking. Serge Fehr will head operations for private and wealth management clients, while Felix Baumgartner will oversee premium clients.
Before it's here, it's on the Bloomberg Terminal.
LEARN MORE