Europe's Bond Traders Await the Calm Before Next Looming Storm
By
After Trump, Yellen, next major events aren't until December

Italian referendum, ECB meeting will be key drivers of bonds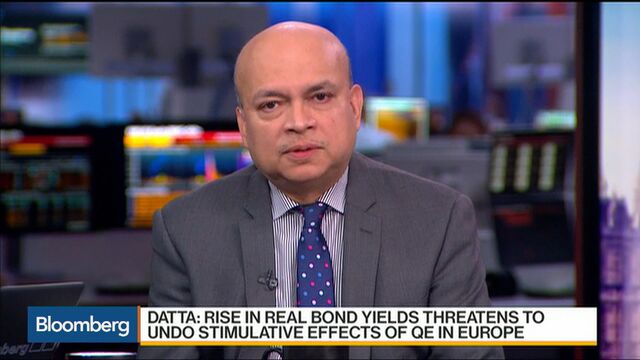 After two weeks of being whipsawed by politics and the outlook for monetary policy, European bonds may be about to get a breather.
There's barely any major economic data from the euro zone next week, and traders are instead focused on Italy's Dec. 4 referendum on constitutional reform and the European Central Bank's policy meeting four days later. The Italian vote has the potential to oust Prime Minister Matteo Renzi, while speculation is growing that the ECB will unveil more bond buying to stoke the regional economy.
A hiatus would be quite a change from recent days, when Donald Trump's election to the U.S. presidency on Nov. 8 led to expectations of an increase in government spending and boosted inflation wagers. This, combined with traders pricing a December Federal Reserve interest-rate hike as a near certainty, sent European bonds tumbling as part of a record global selloff.
"There's not much to really go on data-wise and the driver is clearly going to be on the political front," said Orlando Green, a rates strategist at Credit Agricole SA's corporate- and investment-banking unit in London. "There's a lot going on beyond next week."
Italian and Spanish debt extended their earlier declines into a fourth weekly slide, though German bunds rallied.
The yield on Germany's benchmark 10-year security fell four basis points, or 0.04 percentage point, in the week to 0.27 percent as of the 5 p.m. London-time close on Friday. The zero percent bund climbed 0.345, or 3.45 euros per 1,000-euro ($1,060) face amount, to 97.389. The yield reached a 10-month high of 0.4 percent on Nov. 14.
Italy's 10-year yield rose seven basis points this week to 2.09 percent, after touching 2.23 percent on Monday, the highest since July 2015. Spain's yield reached a post-Brexit-vote high of 1.69 percent on Friday.
Expectations of a Fed rate hike next month were heightened yesterday by Chair Janet Yellen's comment that a move may be imminent. Her ECB counterpart, Mario Draghi, suggested Friday that the euro region's recovery still depends on monetary support, helping to encourage expectations of an expansion of QE at the institution's final meeting of 2016.
Before it's here, it's on the Bloomberg Terminal.
LEARN MORE