Emerging Markets Extend Losses as U.S. Rate Hike Seen Imminent
by , , and
Developing stocks, currencies retreat for fourth week

Yellen's comments add to bets Fed will raise rates in December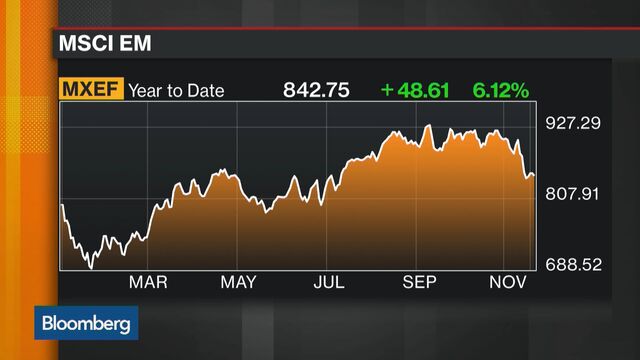 Mounting wagers on an interest-rate increase next month by the Federal Reserve deepened emerging-market losses, sending currencies to the lowest level since June and halting a three-day gain in stocks.
The MSCI Emerging Markets Currencies Index and a similar gauge of equities retreated for the fourth week after Fed Chair Janet Yellen told lawmakers Thursday that policy tightening could soon become an appropriate option. Futures traders are betting on the near certainty of a move at the Federal Open Market Committee meeting Dec. 13-14 amid speculation that U.S. President-elect Donald Trump's spending plans will fuel inflation.
"Today's move looks like a knee-jerk response to Yellen's comments," said Tony Hann, the head of equities at Blackfriars Asset Management in London. "With the outlook so unclear at the moment, the markets will continue to be buffeted by short-term news flow," said Hann, who favors stocks in South Asia and South East Asia.
The currency measure lost 0.5 percent, extending this month's decline to 3.1 percent. The MSCI Emerging Markets Index of shares slid 0.3 percent, trading below its 200-day moving average for a fifth day.

Top Movers


Turkey's lira fell to a record for the fourth time this week
Malaysia's ringgit slipped 0.5 percent, weakening beyond 4.40 versus the U.S. currency for the first time since January. Bank Negara Malaysia Assistant Governor Adnan Zaylani said "yes" when asked by reporters whether the central bank was currently intervening in the foreign-exchange market.
India's rupee weakened past 68 per dollar for the first time since June. Indian state-run banks sold dollars, probably on behalf of Reserve Bank of India, according to two Mumbai-based traders, who asked not to be identified. Lenders sold around 68.12-68.13 rupees, they said. The currency slid 0.5 percent.
Benchmark indexes in Prague and Warsaw fell at least 0.6 percent.
The yield on South Korea's 10-year sovereign note rose six basis points to 2.11 percent. The Bank of Korea said it will offer to purchase government bonds on Nov. 21. The central bank is monitoring financial markets and will take steps to stabilize them if there is a risk that volatility will spread, Governor Lee Ju-yeol said Friday.
Turkey's sovereign bonds dropped, with 10-year yields jumping nine basis points to 10.84 percent, the highest since January.
The Jakarta Composite Index slid 0.4 percent. PT Media Nusantara Citra, which owns television stations and newspapers, tumbled 5 percent, posting an 8 percent weekly drop.
The premium investors demand to own emerging-market sovereign bonds rather than U.S. Treasuries widened two points to 358, according to JPMorgan Chase & Co. indexes.
Before it's here, it's on the Bloomberg Terminal.
LEARN MORE