U.K. PM Deploys Financier Husband to Woo Business at Dinners
by and
Philip May co-hosts relaxed evenings for CEOs and spouses

Monthly gatherings to ease business world's fears over Brexit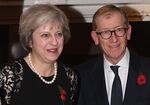 U.K. Prime Minister Theresa May has enlisted her husband, who has worked in finance for more than 30 years, to help her charm business leaders as she prepares to take the country out of the European Union.
The Mays are hosting chief executives of some of the U.K.'s biggest companies at a series of dinners in No. 10 Downing Street, their official London home, in an effort to reassure them that the premier understands their concerns, according to three people who asked not to be named discussing private arrangements. Bosses are invited to bring their partners with them to create a cordial and relaxed atmosphere, they said.
"We have a constant, positive engagement with the business community who, like us, want to grasp the opportunities that Brexit provides," May's office said in an e-mailed statement.
The dinner parties, which involve 20 to 30 people and will be held monthly, illustrate a softening in May's approach to corporations. She alarmed business leaders last month when she criticized the "elites" who fail to contribute to the communities in which they operate, and caused dismay with plans to force firms to say how many foreign workers they employ -- proposals that were later shelved.
Public Anger
While she still believes the excesses of a minority of companies are fueling the public anger that contributed to the Brexit vote and Donald Trump's U.S. election victory, May has taken a more conciliatory approach toward business in recent weeks.
Her campaign to allay concerns of corporate leaders will include her first important business speech, to the Confederation of Business Industry on Monday, at which she will reject concerns she is at odds with the chancellor and will declare support for "the independent Bank of England" and Governor Mark Carney, the Financial Times reports, without saying where it got the information.
The government's Autumn Statement from Chancellor Philip Hammond, on Wednesday, will postpone achieving a fiscal surplus until the early 2020s to allow for targeted short-term investment, and will include billions of pounds for infrastructure, research and science, the FT reported.
Ideally Placed
Government officials believe her husband, Philip May, is ideally placed to help with the rapprochement, because he has worked in the City of London's finance district since the 1980s, most recently as a relationship manager whose role is to keep his clients happy. A spokeswoman for Capital Group, where he now works, declined to comment on Friday.
The attendance of so many spouses at the Downing Street dinners is intended to encourage more relaxed conversation and to build stronger connections between May's team and business figures. Among those who have joined the Mays for dinner are Jayne-Anne Gadhia, CEO of Virgin Money, and Jim Ratcliffe, the founder of Ineos Group, the chemicals producer.
May's government is due to publish an industrial strategy, intended to spread economic growth and job opportunities to the country beyond the capital, within the next few weeks.
Philip May has worked in the City as a fund manager for Prudential Portfolio Managers, de Zoete and Bevan, and Deutsche Asset Management, according to a BBC report in July. For the past 11 years, he has worked for Capital Group as a relationship manager.
The company released a statement after May became prime minister, saying Philip May was "not involved with, and doesn't manage, money" and was not a portfolio manager. His job was "to ensure the clients are happy with the service and that we understand their goal."
Before it's here, it's on the Bloomberg Terminal.
LEARN MORE