Trump Can Neuter Paris Climate Deal by Ignoring It, WoodMac Says
By
Emissions goals impossible to meet without U.S. participation

Gas, zero-carbon energy will be 60% of energy growth by 2035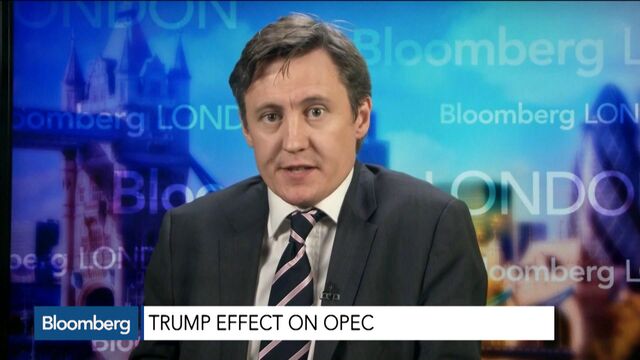 U.S. President-elect Donald Trump will probably ignore the Paris climate agreement, putting a global emissions target out of reach, oil industry consultant Wood Mackenzie Ltd. said.
"If a Trump administration pulls out of the Paris agreement, or more likely, just ignores it, meeting a global emissions goal is all but impossible," Paul McConnell, an Edinburgh-based research director on global trends at Wood Mackenzie, said in an interview. "It was quite clear that the ability of the Paris Agreement to come into force so quickly was dependent on China and the U.S. ratifying that so fast. Now the U.S. is probably not going to participate."
Trump, who's said climate change is a hoax perpetrated by the Chinese, has vowed to cancel the Paris Agreement, which came into force this month, and pledged to increase production of coal, the dirtiest fuel. While he can't rip up the entire accord, the real-estate tycoon and reality-television star has several options for walking away.
As the richest nation on Earth and the second-largest polluter, the U.S.'s role in the accord is critical, and helps to secure participation from China and India, the biggest and third-biggest polluters. A withdrawal would hobble efforts to cut emissions from the burning of fossil fuels, McConnell said.
Climate Leadership
Yet, U.S. non-participation doesn't necessarily mean the "Paris agreement is completely dead because there is perhaps an opportunity for other countries to take up the baton of climate leadership," McConnell said.
Ministers and government officials from almost 200 countries have gathered in Marrakech this week to discuss ways to tackle climate change. At the meeting, outgoing U.S. Secretary of State John Kerry, who helped secure the Paris Agreement, has tried to assuage concern and said the majority of U.S. citizens back action on climate change.
See also: Clues about Trump effect on global energy lurk in IEA data dump
In the U.S., "there have been some pronouncements around ending the war on coal," McConnell said. But lower coal demand has been a result not just of climate policy but of cheaper natural gas, he said.
In China, coal use has peaked, McConnell said. The world's biggest energy consumer will produce about half of its electricity from zero-carbon fuels by 2035, he said.
WoodMac also predicts natural gas and zero-carbon energy sources such as solar and wind will account for about 60 percent of global demand growth to 2035 and this will put pressure on the world's largest oil companies to change their strategies, according to a report published Friday.
Some international oil companies are reducing the amount of carbon they emit from oil production through technologies like carbon capture and storage or using their capabilities to set up offshore wind projects, the report said.
Still, the majors are spending less than 2 percent of their oil and gas exploration and production budgets on renewables, according to the report.
Before it's here, it's on the Bloomberg Terminal.
LEARN MORE