Photographer: Hannah Elliott/Bloomberg
Cars
The New Huracán Spyder Is Lamborghini's Bid to Nab Drivers From Rivals
The new nimble, hypersensitive car will likely appeal to daily Silicon Valley drivers and younger fans around the world.
by
This week at a mansion in the Pacific Palisades, Lamborghini introduced the expected extension of its Huracán line, the $219,780 Lamborghini Huracán Rear-Wheel Drive Spyder.
The 580hp V10 soft-top comes one year after Lamborghini introduced the RWD Huracán coupe and is the first full-production model to emerge under the leadership of the new Lambo boss, Stefano Domenicali. It also embodies the balancing act the 53-year-old manufacturer must maintain between remaining true to its bullish track heritage and embracing the daily-driver, no-convenience-spared mentality most modern drivers—even supercar drivers—demand of their vehicles.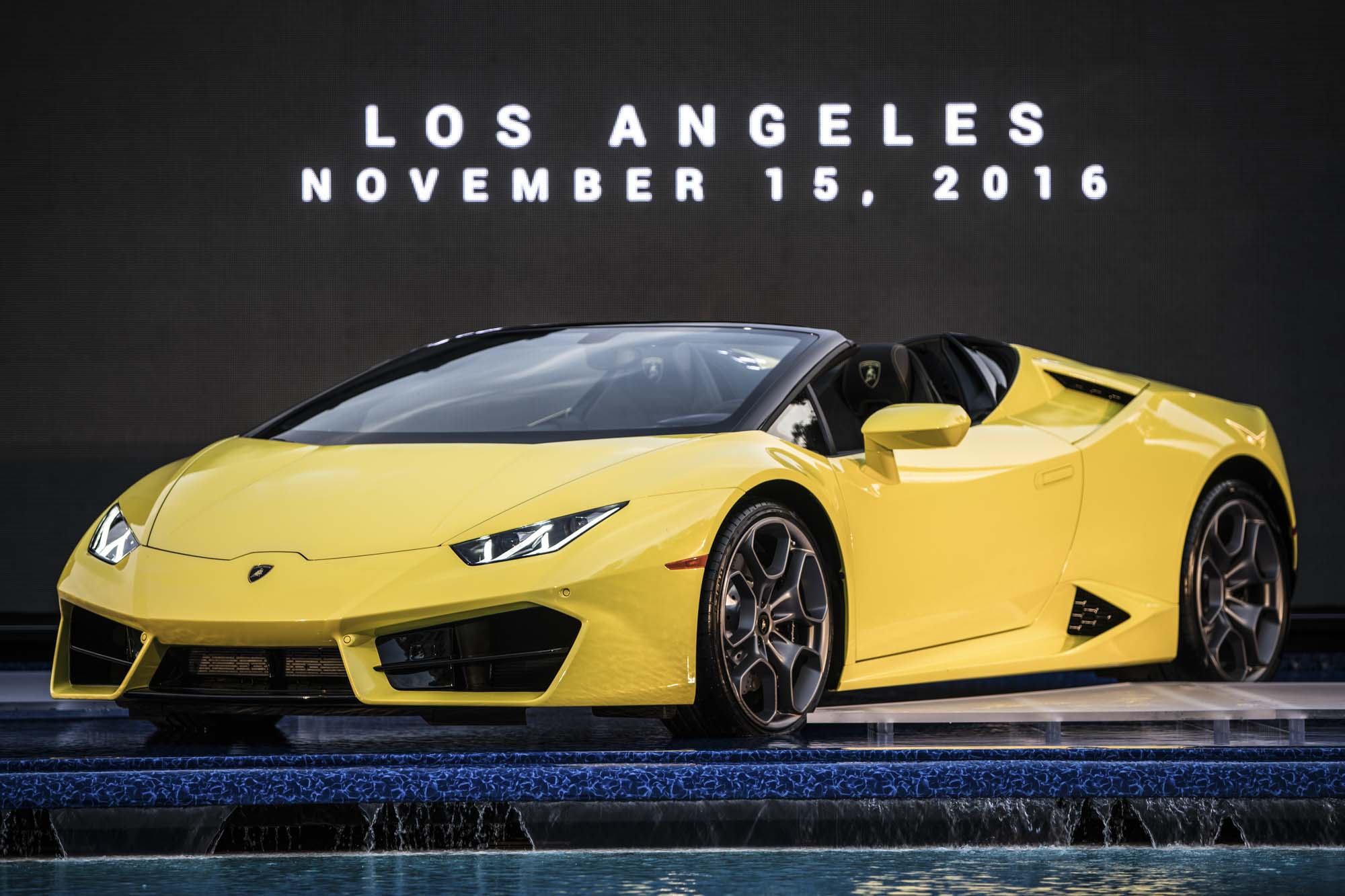 Domenicali came to power at the beginning of this year, after former head Stephan Winkelmann doubled sales volume, tripled revenue, and left for Audi. It's fitting that the RWD Huracán emerged under his arrival, which has defined a quick change of tone among its executive and communication ranks. The idea among parent company Volkswagen brass is that a fresh mood and new minds will reinvigorate products and, by extension, the brand—a task that is especially critical after VW's emission-rigging scandal last year.

Grumbling remains in some circles about the new, daily-driving-friendly Lamborghinis such as Aventador and Huracán. Critics say those cars, with drive modes, refined suspensions, dampening technology, steering controls, and even (gasp) comfortable seats, are lifestyle products rather than pure driving machines like the hot, heavy, gas-guzzling Gallardo and Murcielago.
But the RWD Huracán Spyder embodies the direction in which Domenicali must push the company as a supercar manufacturer in the 21st century. And it should be noted that according to several pro drivers affiliated with the Lamborghini drive school and product testing teams, said grumbling come loudest from brand dillettants and the aged, not from the deepest circles of Lamborghini enthusiasts, many of whom understand that, driven properly, a Huracán and Aventador will still blow their minds. (After all, the RWD Huracán Spyder will hit 62mph in 3.6 seconds and has a top speed of 198mph.) It's just that those guys also want to be comfortable while it's happening.

"Future owners will want to be able to hop out of the Bentley and into the Lambo and still carry on with the same connectivity features on both cars—even if they are part of a multicar garage and are not relied on as sole transportation," said Tim Urquhart, the principal analyst for IHS Markit. "They will want their preferences to be available on both cars."
In fact, Lamborghini says, the average age of its buyers worldwide hovers near 40, which is considerably younger than the average at other luxury brands. The new Huracán, with its two-wheel-drive ability to provide oversteer (which makes for a more thrilling drive), a rooftop that opens in 17 seconds with the grace of a Baryshnikov, and an easy seven-speed dual clutch, is specified to appeal directly to them. As it should be.

"The average age of our buyer is much younger than Bentley's, much younger than Ferrari's," said Federico Foschini, the commercial director of Automobili Lamborghini, yesterday in Los Angeles. "So for our buyers, who are professional people who have success, who run startups, this car is the perfect car for them. And it is becoming a repeat confirmation for Lamborghini—this is good for the future of the brand."
The hyper-sensitive rear-wheel-drive system is a canny choice because it is likely to poach new customers more than an all-wheel-drive car. After the RWD Huracán Spyder hits showrooms, half of Lamborghini sales in the U.S. will be of RWD cars, Foschini said. (Currently, 21 percent of Lamborghini's total U.S. sales are RWD.) Alessandro Farmeschi, chief operating officer of Lamborghini America, said Huracán in general has achieved higher levels of conquest buyers for the brand in recent months, and the RWD will bolster that momentum. He declined to list those brands that have suffered defectors—but then mentioned Porsche, perhaps the most famous purveyor of a RWD car.

"With the Huracán, we are conquesting a lot," Farmeschi said. "Today we have a proper offer on the market: We offer customers the choice between four-wheel drive, the coupe, the lifestyle aspect with the Spyder, and now the rear-wheel-drive, so we are opening doors to people."
The brand still faces challenges. Lamborghini sells fewer than 4,000 cars per year; low-slung, two-seat supercars aren't anywhere near popular in the auto world's biggest potential market, China. And there's no denying that as virtually every other luxury brand produces electric, hybrid, or at the very least turbo-charged vehicles, Lamborghini has shown electric concepts but made no announcements about bringing anything to production.

But Urquhart said he expects Lamborghini may be able to capitalize on its duality between daily drivers with modern creature comforts and those bare-bones, gas-hungry track-ready models. The implication is, that's OK.
"Lamborghini has made great efforts to improve the usability, drivability, and reliability of their cars, and they can be used as daily drivers," Urquhart said. "Lamborghini will, however, still offer de-contented lightweight models, with fewer features, often with 2WD drivetrains, aimed at serious drivers and the track-day market alongside standard, better-equipped models."

Lamborghini execs say this year the Huracán will sell better than ever in the U.S. And the sexy Urus, an estimated 600-plus horsepower, uber-luxury Lamborghini SUV slated for 2017, will almost certainly sell out.
With off-road capability and seating for four, the Urus will be the definition of driver-friendly. What it won't be (most likely) is rear-wheel-drive.


Before it's here, it's on the Bloomberg Terminal.
LEARN MORE