Tesla to Ease Range Anxiety for Owners in China With Converters
Bloomberg News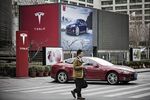 Tesla Motors Inc., whose cars aren't compatible with China's charging standards, will introduce converters that allow owners to power their vehicles at state-run points.
The adapters will give owners more choice and reduce range anxiety by expanding the number of recharging points in China beyond its own network of superchargers, said Tom Zhu, Tesla's China country manager.
"The converters will help our sales by reducing preliminary concerns in China," Zhu said at a briefing at the Guangzhou auto show Friday. "It marks an important milestone in Tesla's development in China."
Tesla has said the automaker will make its vehicle power jacks compatible with state-owned charging stations when the Chinese government announces a standardized system. Its network of superchargers can power up a car in about 90 minutes, and the company has a smartphone app and GPS navigation system to guide owners to the nearest charging point.
The Palo Alto, California-based company also has a network of less-powerful "destination charging" stations that take longer to charge, set up at venues such as hotels, malls and banks.
— With assistance by Yan Zhang
Before it's here, it's on the Bloomberg Terminal.
LEARN MORE