Ames Collection With Richter Canvas Steals the Show at Sotheby's
By
Contemporary art evening sale tallied $276.6 million

Six paintings by Gerhard Richter totaled $75.6 million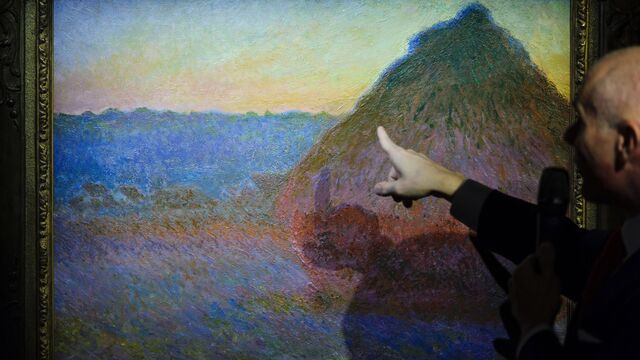 Sotheby's took a risk when it offered to pay more than $100 million to win the collection of art patrons Steven and Ann Ames for its bellwether New York auctions this week.
The move paid off Thursday as 24 works from the collection sold for a combined $122.8 million, more than 40 percent of Sotheby's total take of $276.6 million from the evening sale of contemporary art. The overall results represented a 6 percent decline from a similar sale a year ago.
The Ames group also delivered the evening's top lot: A 7-foot-tall Gerhard Richter canvas, "A B, Still" from 1986, intricately layered with crimson, yellow and blue. It fetched $34 million against a presale estimate of $20 million to $30 million.
Sotheby's profit from the Ames collection may be reduced by fees paid to clients who placed irrevocable bids prior to the auction. Those bids ensured that 16 of the 25 Ames pieces in the evening sale -- or at least $77.7 million of the group's low estimate of $93.6 million -- would sell. Typically, auction houses compensate such clients with fees that come out of their commission.
"We were pleased with the deal on Ames," said Amy Cappellazzo, co-chairman of Sotheby's fine art division. "It was certainly the collection of the season. We took on risk and managed it correctly. It was profitable."
Richter Galore: The sale included seven paintings by the prolific 84-year-old German artist. Six sold, generating $75.6 million in less than an hour and exceeding their low estimate of $60 million as a group. Of the 15 Richters on the block so far this week at the major houses, 14 have sold for a combined $138 million, and three more are at auction today. It has been a solid showing for the artist whose market seemed to be at a crossroads.
Outperformers: Andy Warhol's 1986 "Lenin" fetched $8.1 million, above the $6 million high estimate. Frank Stella's 1974 "Pratfall" sold for $8.9 million, almost doubling the high estimate. A large-scale work, "Drown," by young artist Njideka Akunyili Crosby was pursued by at least 10 bidders and sold for $1.1 million against the presale estimate of $200,000 to $300,000. (Prices include the buyer's premium; estimates don't.)
Takeaway: "Art and Sotheby's are looking potentially healthier heading into 2017,"  David Schick, a Sotheby's analyst at Consumer Edge Research, said in a report on Friday. "Demand built and a 6 percent unsold ratio at Sotheby's to cap off the week suggests consignors could have more confidence for the major sales early next year."
Before it's here, it's on the Bloomberg Terminal.
LEARN MORE