Rise of Populism Tops Anxiety List at Frankfurt Banking Meeting
By
Political instability higher than ever, Commerzbank CEO says

BNP Paribas Chairman sees fallback in French electoral system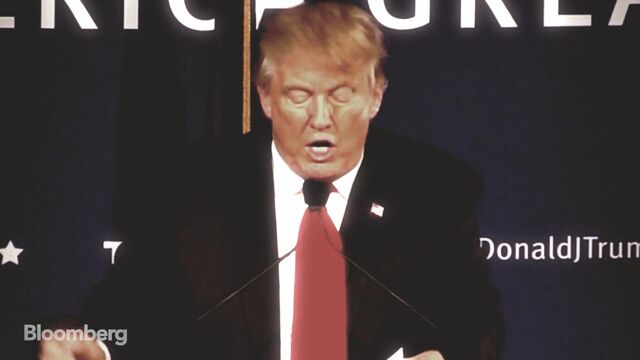 The rise of populism in developed nations is tearing at the political fabric of Europe, unsettling markets and undermining growth prospects, top European bankers said in Frankfurt on Friday.
"The uncertainty in the market, especially the political and economic instability, has never been as pronounced as it is today,'' Commerzbank AG Martin Zielke said at the annual European Banking Congress. "We don't want to go down the path of nationalism.''

Britain's vote to leave the European Union and Donald Trump's surprise victory in the U.S. presidential elections have fueled concerns that nationalism and populism are gaining a dimension that may turn anti-EU parties into a dominant force across the continent. The Dec. 4 constitutional referendum in Italy and elections in France and Germany next year will be a measure of how destabilizing the surge may be, the bankers said.
France's election system offers a fallback for voters, BNP Paribas Chairman Jean Lemierre said. Two election rounds that narrow the country's presidential race to a run-off between the two candidates with the most votes mean constituents will have to think twice about who they want to lead the country, "People will have time to think and make the right choice,'' he said.
Marine Le Pen, the leader of France's Front National party, will be on the ballot, which kicks off in April. Polls show that Trump's victory has boosted her chances in the race. In Germany, Chancellor Angela Merkel's Christian Democratic bloc has seen voters migrate to the populist Alternative fuer Deutschland party.
Political Future
Merkel may outline her political future on Sunday as senior officials in her party await a decision on whether she'll run for a fourth term in 2017. The German chancellor is set to give a press conference at 7 p.m. in Berlin after the first day of a board meeting of her Christian Democratic Union to prepare for the party's congress in early December.
Weak economic growth in wide parts of Europe will likely continue to provide tailwind for populists, OECD chief economist Catherine Mann said at the conference. It's questionable "whether growth rates will be high enough for policy makers to deliver on the promises they're making to their citizens,'' Mann said.
Zielke said Britain's decision to leave the EU may spur Europe's leaders to take steps to persuade disaffected voters of the benefits of union. The outcome of the June 23 referendum "has made clear how important it is to promote broad acceptance of the European project,'' the Commerzbank CEO said.
An audience poll conducted at the conference showed that 43 percent of the participants believe that so-called Brexit will lead to stronger cooperation between France and Germany, while the same amount see it as an "excuse for doing too little."
— With assistance by Nicholas Comfort
Before it's here, it's on the Bloomberg Terminal.
LEARN MORE