Queen Elizabeth II's London Palace Set for $460 Million Refit
By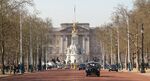 The U.K. government will spend 369 million pounds ($460 million) over 10 years on a refurbishment of Buckingham Palace to minimize flooding and fire risks at Queen Elizabeth II's London residence.
The works will be paid for through a decade-long increase in the Sovereign Grant, which funds the royal family, the Treasury said in an e-mailed statement Friday. Electrical wiring, water pipes and heating systems, which were installed more than half a century ago, will be replaced. There will also be improvements to visitor facilities, according to a separate statement from the Queen's Household.
"Buckingham Palace is one of the most iconic buildings in the world, and this program is designed to extend its working life by a further fifty years," Master of The Queen's Household Tony Johnstone-Burt said in the statement. "By making this investment in Buckingham Palace now we can avert a much more costly and potentially catastrophic building failure in the years to come."
Before it's here, it's on the Bloomberg Terminal.
LEARN MORE