Pro-Brexit Next CEO Wolfson Warns Against Hardline EU Approach
by and
Give May time to negotiate U.K.'s EU exit, retail chief says

Apparel chain sees tough year as Britons spend more on leisure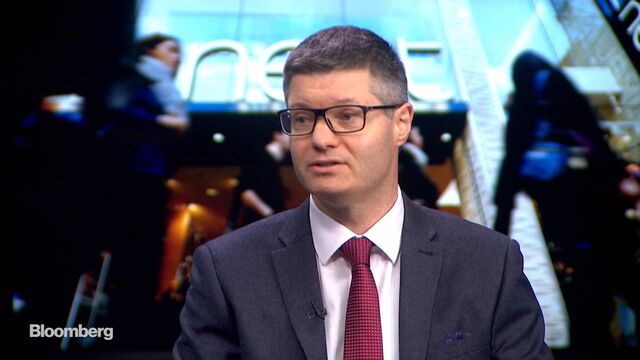 Next Plc Chief Executive Officer Simon Wolfson, one of corporate Britain's most prominent Brexit supporters, said he's concerned about the hard-line direction the process has taken and called on the government to maintain Britain's tradition of openness.
The 49-year-old head of the apparel retailer criticized the tenor of the debate over the U.K.'s post-Brexit immigration policy in a Bloomberg Television interview Thursday, after members of Prime Minister Theresa May's government floated the idea of tough new curbs.
"It's not about numbers, it's about the quality of people we get in," Wolfson said. "It would be an enormous mistake to cut ourselves off from some of the world's best and brightest out of principle."
May's timetable for beginning formal negotiations to exit the European Union has been complicated after a panel of London judges ruled that the U.K. must hold a vote in Parliament before starting the two-year countdown to Brexit. Amid the disturbance, the prime minister has come under pressure domestically and internationally to bring order to her Brexit strategy, amid accusations it's in disarray.
'Bad Idea'
Wolfson defended May's handling of the Brexit process and said it's fine for negotiations to be conducted privately.
"We are going to have to wait for the government to spend the time thinking these things through, talking to our partners in Europe and working out what is achievable," said Wolfson, who has run Next since 2001. "As we saw with the Tesco-Marmite epsiode, it's a very bad idea to conduct your negotiations through the media."
U.K. grocer Tesco Plc and supplier Unilever got into a spat when the Anglo-Dutch foodmaker sought to raise prices on Marmite spread and other products to offset higher costs resulting from the pound's plunge. Wolfson said the drop in the pound would lead to an "inflation bubble" in 2017, although he didn't expect that to continue into the following year. Next will raise the prices of its garments by no more than 4.5 percent next year to offset the higher cost of sourcing apparel from factories outside the U.K.
The CEO said that the combination of rising prices and a tendency of Britons to spend more money on leisure activities means U.K. fashion retailers should prepare for another tough year. Shares of Next, Marks & Spencer Group Plc and Primark owner Associated British Foods Plc have all declined this year on lackluster results.
"The underlying problems with the British economy have been there a long time before the Brexit vote," the CEO said. "It's not that we are out of the woods. We are just going into the woods."
Before it's here, it's on the Bloomberg Terminal.
LEARN MORE