New Zealand Earthquake Seen Costing Insurers Up to $3.7 Billion
by
A government-owned insurer covers most residential damage

Quake caused 80,000 landslides and 2,600 aftershocks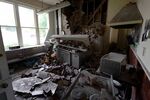 The earthquake that struck New Zealand this week could cost the insurance industry as much as NZ$5.3 billion ($3.7 billion), according to catastrophe modeler AIR Worldwide.
The insured losses will be at least NZ$1.15 billion, the unit of Verisk Analytics Inc. said in a statement on its website. Most damage to residences will be covered by the Earthquake Commission, a government-owned carrier backed by reinsurers, according to AIR.
New Zealand was hit early Monday with a 7.8-magnitude earthquake that caused more than 80,000 landslides and 2,600 aftershocks, according to AIR. The quake shattered glass, collapsed chimneys and left dozens of buildings either unsafe for use or facing other restrictions. It raised the seabed by as much as two meters (6.6 feet) in places, which can disrupt the fishing industry.
"Recovery efforts in the region have been additionally hampered by gale-force winds, heavy rainfall, and flooded roads," Bingming Shen-Tu, assistant vice president at AIR Worldwide, said in the statement. For New Zealand, the quake was the worst since 2009 "and one of the four most powerful since 1855."
AIR Worldwide's model covers damage to structures and their contents, the higher costs of materials, and direct business-interruption losses. It doesn't account for losses to cars or infrastructure.
Before it's here, it's on the Bloomberg Terminal.
LEARN MORE