Asian Stocks Drop as Fed Hike Nears; Nikkei 225 in Bull Market
by and
U.S. interest-rate increase is getting close: Janet Yellen

Jakarta Composite Index leads emerging-market gauges lower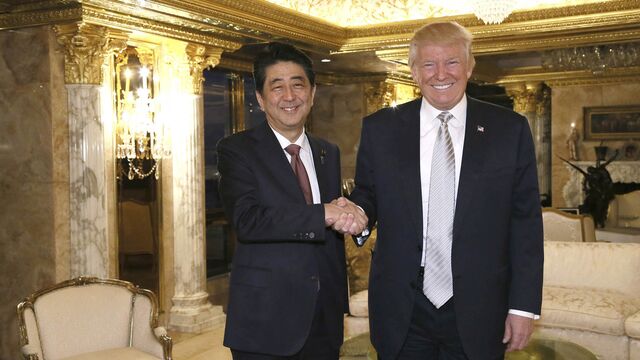 Asian stocks fell, with the regional gauge heading for a fourth weekly decline, after Federal Reserve Chair Janet Yellen signaled the U.S. central bank is close to raising interest rates.
The MSCI Asia Pacific Index retreated 0.5 percent to 134.12 as of 4:01 p.m. in Hong Kong, taking its loss this week to 0.9 percent. Japan's Nikkei 225 Stock Average entered a bull market, while the Topix index closed more than five points short. Hong Kong's Hang Seng Index rose for the first time in three days, the Shanghai Composite Index dropped and the Jakarta Composite Index led declines in Southeast Asia.
Asian equity markets have been whipsawed since Republican Donald Trump's shock election victory on Nov. 8. Emerging-market assets have been hit by expectations for faster U.S. interest-rate increases amid speculation Trump's spending plans will boost inflation. Fed funds futures are showing a 96 percent chance of a U.S. rate hike next month, compared with 80 percent before the election.
"People are expecting that hike to come through," said Andrew Sullivan, managing director for sales trading at Haitong International Securities Group in Hong Kong. "Next week is going to be a quite a quiet week with as we have Thanksgiving, so the U.S. is going to be closed next Thursday and a lot of people are likely to take a holiday, so that could be something that bears on the market."
In her first public statement since the election, Yellen told lawmakers that the Fed is close to boosting borrowing costs as the economy continues to gain traction. The comments torpedoed Treasuries, pushing up yields.
Bullish Japan
The Nikkei 225 advanced 0.6 percent on Friday, and is now up more than 20 percent from a June low, meeting the common definition of a bull market. The Topix closed up 0.4 percent, taking its weekly gain to 3.6 percent. A weaker yen has buoyed exporters, while Japanese lenders have benefited from a rebound in global borrowing costs.
Japanese Prime Minister Shinzo Abe had his first meeting with Donald Trump in New York on Thursday, as he sought to build a personal relationship that will deter the U.S. president-elect from pursuing the trade and security policies he advocated during his election campaign.
Hong Kong's Hang Seng Index closed up 0.5 percent and the Hang Seng China Enterprises Index of mainland Chinese companies listed in the city advanced 0.4 percent. The Shanghai Composite Index declined 0.5 percent.
South Korea's Kospi index slipped 0.3 percent. Korea Zinc Co. fell 3.2 percent with gold and other metals, seemingly because of the strengthening dollar and Yellen's comments, said Hyun-Soo Lee, an analyst at Yuanta Securities Korea Co. in Seoul.
Singapore's Straits Times Index added 0.8 percent, Australia's S&P/ASX 200 Index rose 0.4 percent and New Zealand's S&P/NZX 50 Index closed 0.6 percent higher. In Southeast Asia, the Jakarta Composite Index fell 0.7 percent and Malaysia's benchmark measure declined 0.3 percent.
India's S&P BSE Sensex Index rose 0.2 percent after being down as much as 0.4 percent earlier. Metal producers and consumer companies weighed on the market, as investors assessed the economic impact of the government's shock recall of high-value currency notes. Persistent outflows from overseas funds also dented sentiment.
E-mini futures on the S&P 500 index declined 0.1 percent. The underlying gauge climbed within four points of an all-time high Thursday, as shares in financial firms rose.
Before it's here, it's on the Bloomberg Terminal.
LEARN MORE