business
Brexit Challenger Miller Says Her Case Is 'Unappealable'
By and
Miller says Brexit challenge is legal, not political

Supreme Court will hear the government's appeal in December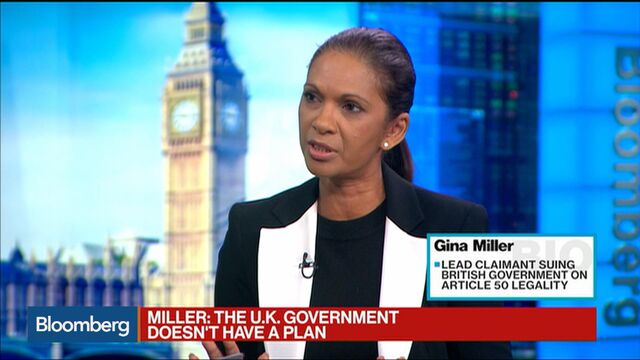 Investment start-up founder Gina Miller, whose lawsuit could derail U.K. Prime Minister Theresa May's plan to unilaterally trigger Brexit, said Parliament is wasting time by not debating a proposal to exit the European Union because her victory at a lower court is "unappealable."
Miller's legal team will gather for a final time at London's Supreme Court on Dec. 5, where the government's lawyers will attempt to convince 11 judges that the lower-court decision should be overturned. May has said she wants to start the two-year negotiation process by the end of March.

"My belief, especially as they're now appealing, and my team's view, is the case is unappealable," Miller said Friday in a Bloomberg Television interview. "The case creates the legal certainty for Mrs. May to go ahead, propose a bill and trigger it in her time table. What's she afraid of?"
The High Court ruling earlier this month sent immediate shockwaves through London's financial and political enclaves. The pound -- the worst-performing major currency in 2016 -- rose to a three-week high against the dollar and lawmakers on both sides of the debate grappled over whether the decision would force May to alter her plan. The government said it can still press ahead with the March timetable even if it loses an appeal.
Watch Next: Brexit was a Cry to Politicians Not Listening, Says Miller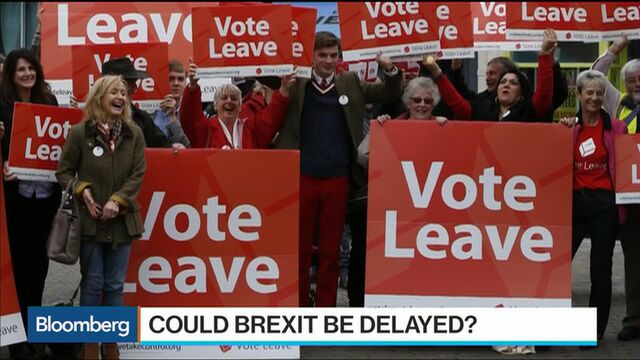 "It's a legal case based on the black letter of the law, it's not a political case," Miller said. "I have no reason to believe the judges will overturn the ruling."
Regional Interventions
Miller is one of a number of challengers whose cases will go before the Supreme Court starting Dec. 5. They include representatives of the Scottish and Welsh governments, members of the Northern Ireland Assembly, and groups representing independent workers and expatriates, after the Supreme Court said Friday that it would add interventions.
Belfast's court of appeal on Friday ruled that Raymond McCord, a campaigner for victims of the Northern Irish conflict, would also join the hearings.
Miller sought to quell speculation the case could reach the European courts.
"My particular case is a constitutional one in Britain so I would not be going" to the European courts, "whatever the outcome," Miller said. "That's not to say the Supreme Court itself won't say that aspects of Article 50 need to be debated at an international level."
Some of the U.K.'s national papers cried foul over the High Court's decision claiming that judges had no place meddling in a democratic process. The Daily Mail's front page featured pictures of the three judges over a headline "ENEMIES OF THE PEOPLE," while the Daily Telegraph billed the ruling as the "Judges Versus the People."
"I didn't expect the incitement of violence, racism and sexism" seen since the ruling, Miller said. "When three judges were vilified, politicians should have immediately have responded, because without the rule of law we have anarchy."
Before it's here, it's on the Bloomberg Terminal.
LEARN MORE