It's Friday, So Asian Central Banks Are Back in Currencies
By
Malaysian monetary authority confirms it's supporting ringgit

India said by traders to intervene; Indonesia did last week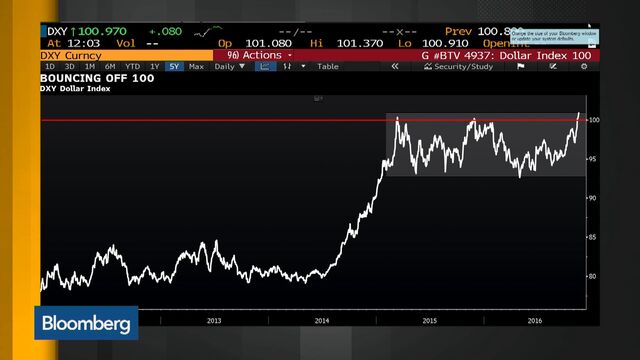 For the second time in two weeks the shockwaves rippling through global markets after the U.S. election have provoked Asian central banks to step in to calm their currencies -- mindful of concerns the region might see a sequel to 2013's so-called Taper Tantrum.
Bank Negara Malaysia Assistant Governor Adnan Zaylani said on Friday the monetary authority was intervening after the ringgit dropped to a 10-month low. Indian state-run lenders sold dollars, probably on behalf of the Reserve Bank of India, according to two Mumbai-based traders who didn't want to be identified. Developing-nation currencies have tumbled after Donald Trump's upset win in the U.S. presidential election on Nov. 8, as indications he will spend on domestic infrastructure revived demand for the greenback.
While many nations worldwide -- developed and emerging -- had fretted in recent years that too-strong currencies were crimping exports, the ferocity of the post-Trump dollar rally has spurred Asia's policy makers to step in to minimize the potential for disruption. Indonesia's central bank intervened a week ago after the rupiah dropped as much as 3 percent. Malaysia's central bank said the same day it would manage volatility and India's central bank was said to be buying rupees.
"We think Asian central banks will not be worried about seeing their currencies depreciate against the U.S. dollar," said Enrique Diaz-Alvarez, chief risk officer at foreign-exchange broker Ebury in New York, Asia's most-accurate forecaster last quarter. "They may smooth out spikes in volatility, but this is far less expensive in terms of foreign-exchange reserves and they have more than plenty for that. We think that the story now is not so much a flight from Asian currencies but as a pure dollar rally."

Malaysia's ringgit has weakened 4.9 percent since Nov. 8 and South Korea's won has dropped 4.1 percent. Indonesia's rupiah lost 2.6 percent, the Philippine peso fell 2.3 percent and India's rupee declined 2.1 percent.
Read More: Last week's interventions
Asia could be bracing for more outflows as history shows some $38 billion were withdrawn from Asia's equities and bond markets in the two months after May 2013 when then Federal Reserve Chairman Ben Bernanke signaled he will stop quantitative easing, according to Khoon Goh, Singapore-based head of Asia research at Australia & New Zealand Banking Group Ltd.
The Bank of Korea said Friday it will buy 1.5 trillion won ($1.3 billion) of government bonds on Nov. 21, after the governor said the central bank will take steps to stabilize markets if needed.
Federal Reserve Chair Janet Yellen said Thursday that the monetary authority is close to raising borrowing costs as the economy continues to gain traction. The ringgit and rupiah are the most vulnerable Asian currencies to higher U.S. borrowing costs, said Divya Devesh, a foreign-exchange strategist at Standard Chartered Plc in Singapore. Taiwan's dollar and China's yuan will underperform if the U.S. shifts to trade protectionism, he said.
Volatility Surging
The average one-month implied volatility for 10 of those exchange rates climbed to as much as 8.46 percent on Nov. 15, the highest in nine months. In the past five years, the average was 6.2, data compiled by Bloomberg show.
Bank Indonesia said last Friday that it intervened to stabilize the rupiah. The central bank said Thursday that it had a limited presence in the currency market and that conditions had improved relative to last week.
"Generally the region's central banks are better placed, " said ANZ's Goh. "It may not necessarily be worse than 2013, but the outflows have only just begun and could continue for some time."
India and Indonesia, the only two major emerging Asian nations with shortfalls in their current account, are better prepared to deal with the uncertainties, analysts say. A look at the region's balances relative to gross domestic product show the deficits in India and Indonesia are narrowing compared to 2013. Surpluses are projected to rise in 2016 including those in China, Singapore, South Korea, Taiwan and Thailand, based on Bloomberg surveys of analysts.
| | | |
| --- | --- | --- |
| | 2013 (%) | 2016 (%) |
| China | 1.5 | 2.5 |
| Hong Kong | 1.5 | 3 |
| India | -2.6 | -1 |
| Indonesia | -3.3 | -2.1 |
| Malaysia | 3.9 | 2.2 |
| Philippines | 4.2 | 2.6 |
| Singapore | 18 | 19.7 |
| South Korea | 6.2 | 7.3 |
| Taiwan | 10.1 | 13.9 |
| Thailand | -1 | 9.9 |
Source: IMF, Central banks, Bloomberg
One main difference between the 2013 episode and now is the performance of the Chinese yuan, seen an anchor for Asian-currency stability. The yuan appreciated 2.9 percent in 2013 and has lost 5.8 percent so far in 2016.
"We do expect the renminbi to weaken, but that is primarily a function of overall U.S. dollar strength, which in turn should stem from expected Fed rate hikes," said Nicholas Bennenbroek, head of currency strategy at Wells Fargo & Co. in New York, referring to the official name of the Chinese yuan. Still, Asian currencies are better placed now relative to the 2013 episode, the U.S. bank said.