Give Investment a Chance: U.K. Firms Make Brexit Plea to Hammond
By
Increased investment would help support economic growth

U.K. Treasury may have limited fiscal leeway for stimulus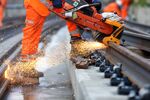 As Britain's businesses submit their wish list for Philip Hammond's budget statement, one clear theme is emerging -- investment.
Groups from the Confederation of British Industry to the Institute of Directors are calling on the chancellor of the exchequer to boost infrastructure spending and announce measures that encourage private-sector investment in his Autumn Statement on Nov. 23. The Bank of England, which cut interest rates after the Brexit vote in June to help the economy, forecasts that investment will fall this year and next.

The CBI sees improvements to the country's railways and roads as among the top priorities. A 6 billion-pound ($7.4 billion) boost in investment per year would help boost lagging levels of productivity in the country's regions, the body said.
It also wants Hammond to raise companies' annual investment allowance to 1 million pounds until the end of 2018 to encourage private-sector spending and exempt new plant and machinery investment from local levies.
Whatever Hammond plans, his fiscal leeway may be limited. The outlook for the deficit has deteriorated since the vote to leave the European Union, with some forecasting that borrowing could be 100 billion pounds higher by the end of the decade. 
Any boost in spending will almost certainly come alongside a relaxing of the fiscal rules put in place by Hammond's predecessor George Osborne. A looser approach could allow an immediate stimulus of 1.25 percent of GDP and take the strain off the BOE, according to Standard Life.
"There are clear signs that the economy will soften," said James McCann, an economist at Standard Life. "Fiscal stimulus will help cushion this slowdown with too much of the burden of recent adjustments having been borne by central banks."
Investment First
The bulk of any stimulus should be spent on infrastructure, he said, recommending small-scale "local" transport projects as they offer the best return.
The Institute of Directors and the British Chambers of Commerce both put investment at the top of their pre-budget pitches to the Treasury, while manufacturing lobby the EEF wants measures to "enhance the environment" for spending.
Consultancy EY sees tax incentives as the most likely option for the government, rather than "blockbuster" infrastructure projects. Hammond could also relax planning laws to boost the housing supply, something the Royal Institution of Chartered Surveyors supports.
With the economy holding up so far since the EU referendum, Hammond may want to hold back some ammunition for when Brexit negotiations start in case of a deterioration.
"So far growth has defied projections and diminished the urgency of fiscal support,"  Citigroup economists including Christian Schulz said in a report Friday, adding they expect small tax cuts and public investment increases. "If the economy weakens more and monetary policy hits limits, a more decisive fiscal response could still follow."
Before it's here, it's on the Bloomberg Terminal.
LEARN MORE