Fed's Bullard Says Trump Policies May Improve U.S. Productivity
by and
St. Louis Fed president urges focus on capital spending, taxes

Bullard sees immigration, trade as longer-term issues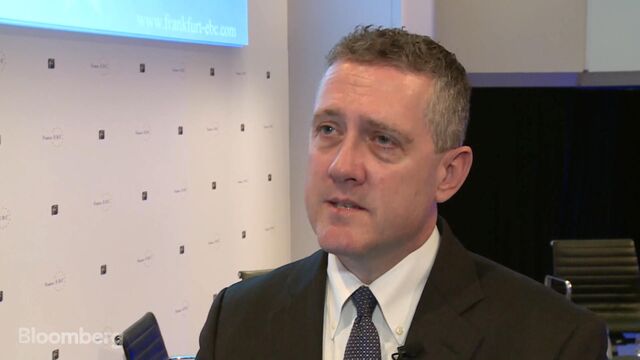 Federal Reserve Bank of St. Louis President James Bullard said some of the potential policies of President-elect Donald Trump could help restore lagging productivity in the U.S. economy.
Talks about higher capital spending and tax reform have the "potential" to improve productivity, "and I think that should be the focus," Bullard said in an interview with Bloomberg Television's Matt Miller on Friday. "The infrastructure program done properly could provide some public infrastructure that could improve U.S. productivity and drive medium-term growth. Some kind of tax reform that would repatriate profits from overseas, that could increase U.S. investment and U.S. growth."

While analysts and market participants are now effectively convinced that the Federal Reserve will raise interest rates in December, the effect of Trump's economic policies on long-term economic prospects is uncertain. A medium-term boost from higher spending and lower charges can be expected before curbs on immigration and possible protectionism start taking their toll on potential growth.
Their impact would be felt over a "5- to 10-year type of horizon, which is kind of out-of-the-box for day-to-day monetary policy," Bullard said in Frankfurt.
Trade Immigration
"Trade is something that requires negotiation, it takes many years and there would be impact on the economy and that would be many ways out, perhaps 10 years. The same with immigration," he said earlier in a panel discussion. "For monetary policy purposes I think of these first three items as being the kind of things that might be important for monetary policy over coming years."
Bullard also downplayed concerns that the Trump presidency will try to limit the Fed's independence.
"Signals from the transition team are they will respect the independence of the Fed; I take them at their word on that," Bullard said. With two vacant posts on the Fed board and more openings coming up in the next few years, the new administration will have "a chance through normal channels to exert their influence on the Fed."
The Fed board member said that it would be "foolish" not to watch out for the buildup of potentially risky bubbles as a consequence of central banks' unconventional policies.
"My own reading is that I do not see a bubble in the U.S. economy of the same magnitude of what we saw in the late 1990s or in the mid-2000s, but nonetheless I would be sensitive to this issue and I'll keep my eye on that going forward," he said.
Before it's here, it's on the Bloomberg Terminal.
LEARN MORE