European Executives See Glimmer of Profit in Trump's Growth Plan
By and
Cap Gemini, WPP executives say U.S. customers are optimistic

SAP CEO: Free trade 'a tradition that will continue' in U.S.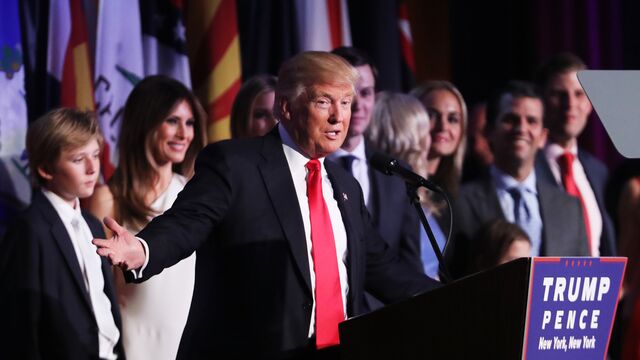 Executives at WPP Plc, Altice NV and Cap Gemini SA, gathered in Spain for an investor conference this week, voiced confidence that their businesses in the U.S. would profit under President-elect Donald Trump.
Clients are more optimistic than they were right after the Nov. 8 election, said Paul Hermelin, chief executive officer of Cap Gemini, the French computer-services firm whose U.S. customers include General Electric Co. One reason, he said: the possibility U.S. companies will be able to repatriate profits, giving the economy a lift.
"They're less afraid of trade negotiations and say this administration will be business friendly," Hermelin said at the conference, hosted by Morgan Stanley. "I'm amazed at the level of business optimism in a week."
Those sentiments were echoed by Paul Richardson, finance chief at British advertising giant WPP, who said he's seen a mood change in the U.S. after Trump's election, and Michel Combes, CEO of Altice, the acquisitive Dutch-French phone and cable company that's bulked up with U.S. acquisitions.
"Consolidation could be a little bit more favored" in a Republican administration, Combes said. "We see this change as positive for us."

SAP Chief Executive Officer Bill McDermott, speaking at a separate event in Germany, said he wasn't concerned that Trump, who railed against global trade agreements during the election campaign, would make an anti-trade stance a policy centerpiece.
"Free trade, commerce and an open, free society will be very much a tradition that will continue with Donald Trump as president," McDermott said Thursday at an annual business conference held by the Sueddeutsche Zeitung newspaper. In a short interview, the American executive said he expected to see a move to the middle from the president-elect that will surprise people. "I do believe Donald Trump will be up to the job."
Trump's election has caused alarm across Europe and the U.S. after the real estate magnate campaigned as an anti-globalist who would undo the 1990s-era North American Free Trade Agreement, and similar trade deals which he has said siphoned off U.S. jobs to Mexico and China. President Barack Obama, in Germany Thursday on a farewell tour, warned against any weakening of the trans-Atlantic alliance between the U.S. and Europe.
Investors may be discounting "some of the things we should be more worried about," Taimur Hyat, chief strategy officer for Prudential Financial Inc.'s $1 trillion asset management arm, told Bloomberg Television on Wednesday.
One common thread between Altice, SAP, WPP and Cap Gemini is their reliance on their North American operations, which generate dollars whose value has been rising. SAP got about one-third of its revenue from the U.S. in 2015, while WPP, owner of J. Walter Thompson and Ogilvy & Mather, earned about 37 percent of its sales from the North America, and Cap Gemini reported a 25 percent share coming from North America -- figures that have risen over the years for all three companies. Altice, which this year acquired U.S. pay-TV company Cablevision, received about 35 percent of its revenue in the U.S. in its most recent quarter, according to Bloomberg data.
For those on the other side of Trump's would-be wall between the U.S. and Mexico, the outlook is less sanguine. Telefonica SA, the biggest European telecommunications investor in Latin America, expects an already "problematic" market to worsen, according to Chief Financial Officer Angel Vila, who spoke in Barcelona.
"We are assessing what are the options" to refocus Telefonica's Mexican business, Vila said Wednesday. "We are going to be quite pragmatic in a market that is not a good market -- with last week's election, even more so."
Others, though, are betting Trump's background as a businessman and dealmaker will carry the day -- setting aside initial concerns over less-friendly campaign positions, such as his vow to block the $85.4 billion mega-takeover of Time Warner Inc. by AT&T Inc.
"After the initial shock and non-comprehension, the mood has clearly changed in the U.S. in the last week, in terms of how businessmen feel," said WPP's Richardson. "I would say the prospects, if anything, are slightly better now."
— With assistance by Michael Scaturro, Aaron Ricadela, and Rebecca Penty
Before it's here, it's on the Bloomberg Terminal.
LEARN MORE