Draghi Says Recovery Is Still Reliant on ECB Policy Support
By and
ECB sees no consistent strengthening of inflation pressures

Chief Economist Praet says that 'downside risks' remain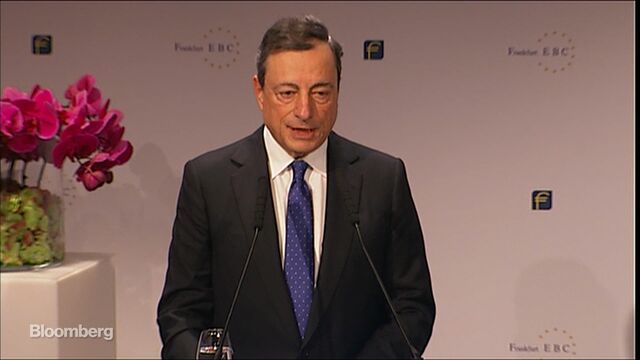 Mario Draghi said the recovery in the 19-nation euro area isn't yet strong enough to deliver sustained reflation, and current monetary support will be a "key ingredient" for the economic outlook in coming years.
"We do not yet see a consistent strengthening of underlying price dynamics," the European Central Bank president said in a speech in Frankfurt on Friday. "Even if there are many encouraging trends in the euro area economy, the recovery remains highly reliant on a constellation of financing conditions that, in turn, depend on continued monetary support."
His commitment suggests that the central bank's balance sheet -- currently at 3.5 trillion euros ($3.7 trillion) and with more being added each month -- won't shrink for the foreseeable future, even if the exact parameters of the ECB's quantitative easing change. The Governing Council is set to decide on Dec. 8 -- when it will have new economic forecasts -- whether to extend that program beyond March 2017.
ECB Chief Economist Peter Praet said policy makers will be in a "good position" at that meeting to assess the inflation outlook and the policy stance.
"Although the euro area recovery is showing signs of resilience, material downside risks remain," he said in a speech on Friday in New York. 
Draghi didn't address the forthcoming policy decision directly in his remarks, though he did reiterate that officials will continue to act as needed to return inflation to their goal. Praet echoed those remarks in his speech.
"Going forward, our assessment will depend on whether we see a sustained adjustment in the path of inflation towards that objective," Draghi said. "And that means that inflation convergence towards 2 percent is durable, even with a reduction in monetary accommodation. Inflation dynamics, in other words, need to be self-sustained."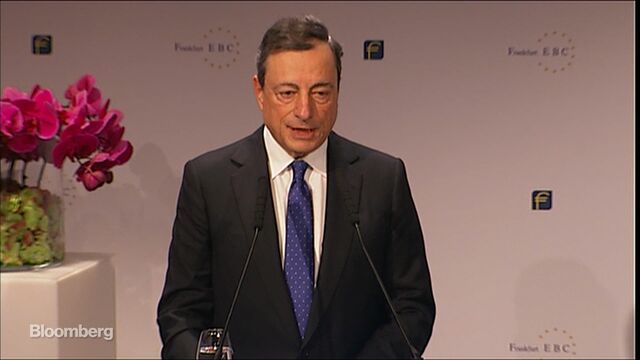 Speaking at the same event as Draghi, Bundesbank President Jens Weidmann said the inflation rate was kept low mostly by temporary factors and it could rise to 1.5 percent as early as February as the impact of the decline in oil prices is washed out of the data. Inflation was at 0.5 percent in October.
"Although some uncertainty surrounds the time span needed for this increase to take place, the medium-term determinants of inflation are intact," he said in his speech. "With respect to inflation, what went down, will go up –- albeit at a modest pace."
Comments from the Bundesbank president -- an outspoken critic of central-bank activism -- come after ECB Executive Board member Yves Mersch warned on Thursday against creating "excessive expectations" for the policy decision, a sign that the Governing Council could be in for contentious meeting in December.
And that was not the only difference in emphasis between Weidmann and the ECB president as they took the stage in Frankfurt on Friday. Referring to the current debates surrounding the completion of the Basel III global banking rules, Draghi warned against delay or radical change. For Weidmann, timely implementation was important, although the agreement also had to be "regionally balanced," he said.
As regulators prepare for a meeting in Santiago this month and a year-end deadline for agreement, Europe is pushing for changes and the Bundesbank has gone so far as to signal that it might refuse to sign a deal.
"Now is the time to finalize the regulatory agenda and enter a period of stability," Draghi said. "While marginal adjustments are possible, there should be no rolling back on what has been decided."
— With assistance by Alessandro Speciale, and Fergal O'Brien
Before it's here, it's on the Bloomberg Terminal.
LEARN MORE