Copper Miner Says Price Rally May Stall as World Glut Lasts
Bloomberg News
Antofagasta sees global surplus of up to 400,000 tons in '17

Miner's CEO 'not convinced' that lower part of cycle is over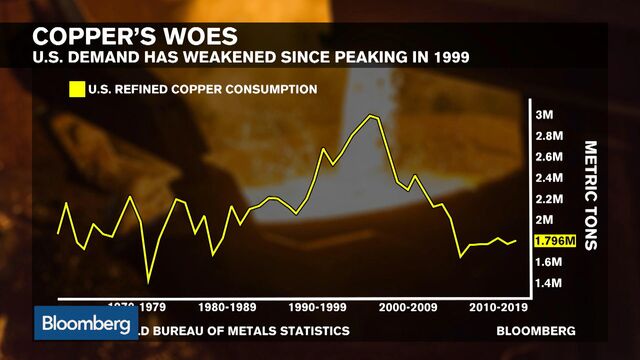 The global copper glut will endure for another year in 2017, and it's too early to know if a surprise price surge this month heralds a sustained trend, according to Ivan Arriagada, chief executive officer of Antofagasta Plc, one of Chile's biggest producers. Copper prices fell.
The metal used in cables and wiring entered a bull market last week as investors rushed to buy, sparking a frenzy on Chinese and global exchanges. Copper is the best performer on the London Metal Exchange this quarter, rising 12 percent, and spurring Macquarie Group Ltd. and Goldman Sachs Group Inc. to raise forecasts. But it's not out of the woods yet, according to Arriagada.

"We will still have a surplus in 2017, and I'm not convinced that we're yet to come out of the lower part of the cycle," he said in an interview at the end of Asia Copper Week, an annual industry gathering in Shanghai. "Changes we've seen in production and demand certainly lend support to a higher price than we had a few months ago. But I don't think fundamentally we have a different picture just yet, even if there are some positive signs."
Copper's rally was partly sparked by perceptions that improved consumption in China wasn't reflected in the price in the same way as in other metals such as steel and zinc. A pledge by U.S. President-elect Donald Trump to boost infrastructure spending also stoked the gains. The surge was exacerbated by technical and algorithmic trading, as well as rapid short-covering by investors as prices rose, Ian Roper, an analyst at Macquarie, said at the meeting.
The world will have a surplus of 300,000 tons to 400,000 metric tons next year, Arriagada said. "Chinese demand will grow 4 to 5 percent this year, so it's stronger than the physical market and analysts had anticipated," he said. "If China's copper demand continues to grow at the pace like it's done this year, then we may see this surplus switching to a shortage certainly in 2018."
The global market is adjusting to shifts in Chinese copper trade as the smelting industry expands, boosting imports of concentrate and slowing purchases of refined metal. That favors shippers of raw material to China like Antofagasta, but hurts suppliers of metal. Jiangxi Copper Co., China's top producer, agreed to cut processing fees by 5 percent next year, which Arriagada said was in line with expectations. His company is still negotiating fees for 2017, he said.
Copper for three-month delivery lost 1 percent to $5,441 a ton on Friday by 9:16 a.m. in London, to bring its weekly drop to 2 percent after a jump of 11 percent last week, the most since 2011, following Trump's surprise win.
— With assistance by Martin Ritchie, and Winnie Zhu
Before it's here, it's on the Bloomberg Terminal.
LEARN MORE