Broadbent Joins BOE Fightback With Defense of Loose Policy
By
Raising rates to tackle price gains 'costly' for jobs

BOE loosened policy in wake of Britain's vote to leave EU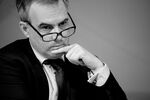 The Bank of England isn't backing down.
Deputy Governor Ben Broadbent launched the latest salvo in the central bank's defense of its monetary policy Friday, reaffirming that officials aren't willing to sacrifice jobs or wage growth to counter inflation.
The comments came within days of Governor Mark Carney launching a clear attack on lawmakers who he argued are engaged in a "massive blame deflection exercise" by focusing on monetary policy instead of reforms.
While the BOE has faced criticism for the impact of its decision to lower interest rates and boost asset purchases in the wake of the U.K.'s vote to leave the European Union, Broadbent said the bank has got the trade-off between growth and inflation "broadly right." He also doesn't see loose policy as boosting inequality in the longer run.
"We can tolerate high inflation because the alternative is a larger rise in unemployment, and weaker wage growth," Broadbent said in London. "Put another way, we expect to have to accept those things -- to some extent -- in order to prevent inflation from rising further above the target."
"That's the unavoidable nature of the trade-off that monetary policy occasionally faces," he said.
A 0.5 percent rate increase could offset a 10 percent weakening in the exchange rate, but this would be "costly in terms of unemployment," Broadbent said. Carney has previously said that while the Monetary Policy Committee has "limited" tolerance to inflation, there is not a specific level that would prompt action.
Side Effects
Broadbent also sought to tackle concern that current policy -- which has interest rates at a record low -- is creating inequality by boosting the wealth of the already asset-rich. U.K. Prime Minister Theresa May fueled the controversy last month by saying it had "bad side effects," unleashing a torrent of criticism by lawmakers.
"I doubt that any independent decision of monetary authorities, the MPC included, has that much bearing on the behavior of real asset prices over long periods of time or any distributional consequences that follow," Broadbent said. "And the only reason for raising these issues, therefore, is the apparent concern that the opposite is true – that looser monetary policy, unconventional policy in particular, is having material and lasting effects on the distributions of income and wealth. I don't think the evidence gives much support to that view."
The main factors affecting wealth distribution over the past three decades appear to be the prices of risky assets such as equities and house prices rather than changes in interest rates, Broadbent said.
Independence Discussion
He also waded in to the debate on central bank independence, which Ed Balls, one of the key advisers to the government when the BOE's role was redefined in 1997, this week said needs an update. Broadbent said that the market doesn't see the U.K. central bank's autonomy being undermined because inflation expectations are still anchored.
"Despite the post-truth age we live in, inflation expectations equal what is actually going on," he said. "I don't think it's seriously being questioned, central bank independence."
— With assistance by Scott Hamilton, and Jill Ward
Before it's here, it's on the Bloomberg Terminal.
LEARN MORE