Brexit Bulletin: Cooler Heads in the City
Bankers are getting more confident they'll be granted a transition period after Brexit.
By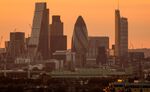 Sign up to receive the Brexit Bulletin in your inbox, and follow @Brexit on Twitter.
Bankers are softening their warnings that Brexit will force them to immediately ship large numbers of staff from the City of London.
Executives at global banks are gaining confidence that Prime Minister Theresa May will secure a lengthy transition period that would carry them over from the current rules to whatever fresh terms of trade are agreed upon with the European Union, according to two people with knowledge of their firm's contingency plans.
That's led to more measured language from many of the industry's leaders than before — and just after — the June referendum, when they were warning of pandemonium and threatened to leave.
UBS Chairman Axel Weber:
"Wait and see is also UBS's attitude toward Brexit. No doubt London will remain an important financial center. UBS will be here."
Daniel Pinto, JPMorgan's head of corporate and investment banking:
"Nobody wants to make a bad decision by moving quickly with the amount of uncertainty around. We will be ready to make a permanent decision once we have a better idea of the direction of travel."
Banks still continue to plan for the worst: the loss of their right to sell services freely around the EU from London after the end of the two-year Brexit negotiation period. And they are ready to start the process of moving people abroad within weeks of talks starting.
Brexit could give the continent's capital markets a much-needed boost if banks do move to the region, Ignazio Angeloni, a board member at the European Central Bank's supervisory arm, said in an interview. Finnish regulator Anneli Tuominen said the ECB "will be prepared to welcome" banks so long as they aren't engaged in regulatory arbitrage. 
Berlin Reunion 
The gang's all getting back together in Berlin. May, German Chancellor Angela Merkel, French President Francois Hollande, Italian Premier Matteo Renzi and other European leaders meet with a departing U.S. President Barack Obama.
May and Merkel will speak to reporters early in the afternoon.
Obama reiterated on Thursday that he would like the Brexit negotiations to be smooth, yet domestic politics are focusing the minds of Merkel and Hollande.
Former French President Nicolas Sarkozy and political veteran Alain Juppé head into a weekend presidential primary as front-runners in a contest that may well lead to one of them replacing Hollande next year.
In a televised debate last night, both Sarkozy and Juppé called on the EU to present a tough response to U.S. president-elect Donald Trump on trade and defense.
Merkel said she's willing to work with Trump, but she too is thinking of elections as she considers whether to run for office again in 2017. Obama signaled that if he could, he would vote for her:
"I think she's been outstanding. That's a matter for the German people, but I value Angela's leadership. If I were German and I had a vote I might support her. But I don't know whether that hurts or helps."

As for Renzi, Italian executives including Fiat Chrysler Chief Executive Officer Sergio Marchionne and CIR Chairman Rodolfo De Benedetti told Bloomberg that his proposed constitutional reform would move Italy in the right direction and help lure foreign investors.
Meanwhile German Finance Minister Wolfgang Schaeuble kept up the pressure on the U.K. over Brexit, dashing hopes raised by Merkel earlier in the week that the nation may be softening its stance. He  told the Financial Times that the U.K. may have to pay into the EU budget for more than a decade after withdrawing from the bloc because of existing commitments.
On The Markets
Sterling's slide is proving a drawback for many of the 3.4 million foreigners working in the U.K., leaving them with the prospect of more expensive trips abroad, higher foreign-currency commitments and a diminished cash pile with which to fund them, according to Bloomberg's Netty Ismail.
"The good old days when you came to Britain to make a stack of money, they're gone," said Owen Jolly, an agricultural analyst who lives in London and will defer plans to move back to Australia if the pound keeps depleting his savings.

In a separate story, Chinese banks are taking advantage of the pound's fall to invest in a transformation of a dock in the east end of London to make it a hub for Asian businesses.
Brexit Bullets
Pro-Brexit Next CEO Wolfson warns against a hardline immigration approach
U.K. Parliament's trade  ommittee to probe post-Brexit options
Gina Miller won't take Brexit case to EU court no matter U.K. ruling
Germany says EU base may be required for LSE-Deutsche Boerse
Why the U.K. could quit Europe's customs union: QuickTake Q&A
Farage's would-be UKIP successors are not such huge fans of Trump
U.K. must tell EU scientists they can stay, lawmaker panel says
Deloitte may move roles if U.K. crimps immigration, Sky says
Sweden finance minister wants "soft" Brexit, Reuters reports
And Finally...
Sterling's slide is reviving demand for all-inclusive package holidays. Once the rage in the 1970s before demand waned with the emergence of low-cost airlines in the 1990s, such holidays allow Britons to avoid the uncertainty of paying in euros for accommodation, airport transfers and meals.
For more on Brexit follow Bloomberg on Twitter, Facebook and Instagram, and see our full coverage at Bloomberg.com
Before it's here, it's on the Bloomberg Terminal.
LEARN MORE