Your Evening Briefing
Bloomberg News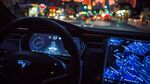 Want to receive this post in your inbox every afternoon? Sign up here.
Today's top stories cover fast cars, big bills and expensive paintings.
A Tesla 'Easter Egg' makes the world's fastest car even faster. Following a software enhancement next month, Tesla's high-end Model S will soon be able to go from zero to 60 miles per hour in just 2.4 seconds, shaving off a 10th of a second. That's a new threshold that distinguishes it from any other production car on the road.
Janet Yellen said an interest rate hike could come "relatively soon." The Federal Reserve chair signaled the U.S. central bank is close to lifting interest rates as the economy continues to create jobs at a healthy clip and inflation inches higher.
China didn't invent climate change, said China. The country couldn't have invented global warming as a hoax to harm U.S. competitiveness because it was Donald Trump's Republican predecessors who started climate negotiations in the 1980s, China's Vice Foreign Minister Liu Zhenmin said. Officials are awaiting Trump's decision on whether he'll pull the U.S. out of the Paris Agreement to tackle climate change.
How will Republicans spend like crazy without running up debt? The answers are in the models. A U.S. revenue bill is coming soon, with the first significant tax cuts since 2003. Anyone who cares about taxes, spending, and government debt will have to start caring about the details of models.
Divorce in the U.S. is at a 35-year low. For the third consecutive year, the rate of divorce fell. Meanwhile, marriage rates are up a bit. Those rates are at their highest since 2009. After a plunge of several decades, matrimony could be stabilizing.
India's unprecedented cash ban is having strange consequences. From keeping Indian defense jets on the ready to transfer cash from mints, to banks knocking on the doors of religious institutions to access smaller change, Indian ingenuity is being stretched by Prime Minister Narendra Modi's cash ban to crackdown on unaccounted money.
A Monet painting sold for a record $81.4 million. Claude Monet's  1891 "Meule"  lifted Christie's Impressionist and modern art evening sale to $246.3 million, a 69 percent jump from the similar auction a year ago.

Before it's here, it's on the Bloomberg Terminal.
LEARN MORE