U.S. Intelligence Chief James Clapper Submits Resignation
By
Move is typical for top officials at end of an administration

Clapper's tenure coincided with privacy debate, rise of ISIS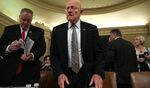 James Clapper, the head of the U.S. intelligence community, said he submitted his letter of resignation on Wednesday.
Clapper, a former lieutenant general who was sworn in as director of national intelligence in August 2010, will end his tenure in January, when President-elect Donald Trump takes office, he told a public hearing of the House Intelligence Committee on Thursday. It is typical for top officials to submit their resignations when a new administration is preparing to take office.
The 75-year-old Clapper has overseen the U.S. government's intelligence agencies during a tumultuous period that included the rise of Islamic State, a string of terrorist attacks in Europe and the U.S., and growing concerns about the balance between privacy rights and the ability of law enforcement to access encrypted communications. He will leave office as the longest serving director of national intelligence, a position created in the aftermath of the Sept. 11, 2001 terrorist attacks.
"You have always exhibited sober judgment and put the fate of the nation first," California Representative Adam Schiff, the top Democrat on the House Intelligence Committee, told Clapper at the hearing. "I hope that as you look back on your career, you are proud of the work you've done. We are all certainly very grateful."
Transition Turmoil
The resignation leaves another major national security position that Trump's transition team must fill, at a time when the president-elect is still sorting through potential candidates from a limited bench. Some U.S. officials had speculated that former Representative Mike Rogers, who headed the House intelligence panel, could be tapped for director of national intelligence, but Rogers abruptly left Trump's team earlier this week.
Clapper's tenure was bruised in 2013 by one of the greatest leaks of classified information in recent history when former National Security Agency contractor Edward Snowden exposed the existence of classified U.S. surveillance programs, including the bulk collection of phone records of millions of innocent Americans.
When asked in March 2013 during an open Senate hearing -- before the Snowden leaks -- if the U.S. collected data on millions of Americans, Clapper answered "no." He then said: "Not wittingly. There are cases where they could inadvertently perhaps collect, but not wittingly."
'Least Untruthful'
In the wake of the Snowden revelations, privacy advocates and some lawmakers said that Clapper's testimony amounted to lying to Congress, but the DNI chief later said he misread the question and wouldn't have been able to discuss a highly classified program in a public setting anyways. He told NBC News in an interview that his answer was the "least untruthful." Clapper subsequently struggled to offer other explanations, at one point simply saying his testimony was "clearly erroneous."
Clapper also oversaw U.S. national intelligence amid a rise in sophisticated, damaging and unprecedented hacking attacks, including those aimed at interfering with the 2016 presidential election.
Data hacked from Democratic political groups was leaked during the election campaign in what some U.S. officials and lawmakers believed was an effort to swing the election in favor of Trump against his rival, Hillary Clinton.
In October, the Office of Director of National Intelligence and the Department of Homeland Security issued a rare joint statement saying they were confident that the Russian government directed the hacking of American political groups and leaked stolen material in order to interfere with the election.
"We believe, based on the scope and sensitivity of these efforts, that only Russia's senior-most officials could have authorized these activities," according to the statement. Russian officials repeatedly denied the accusations.
Clapper said during Thursday's hearing he doesn't expect a change in Russia's behavior under a Trump administration.
Before it's here, it's on the Bloomberg Terminal.
LEARN MORE