S&P 500 on Brink of Record as Yellen Comments Fuel Rate Bets
By
Financial shares resume Trump-driven gains as hike odds rise

Advance in crude prices pushes energy producers higher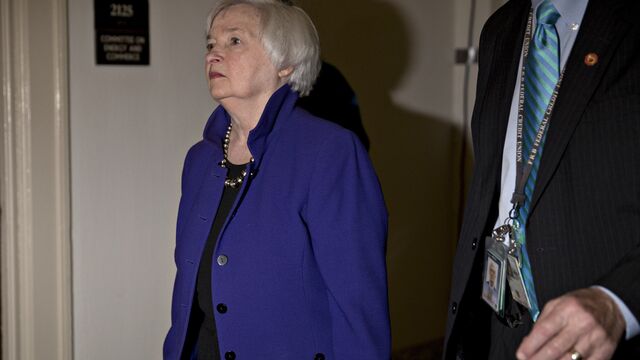 The S&P 500 Index climbed within four points of an all-time high as comments from Federal Reserve Chair Janet Yellen fueled speculation interest rates may rise as soon as next month, bolstering shares in financial firms. Small caps extended a rally to 10 days.
The S&P 500 added 0.4 percent to 2,185.49 at 3:20 p.m. in New York, 0.2 percent below its Aug. 15 closing record of 2,190.15. The Russell 2000 Index jumped 0.6 percent to a record, pushing its winning streak to the longest since March 2013. The Dow Jones Industrial Average slipped after a disappointing sales forecast sent Cisco Systems Inc. tumbling.
Yellen said the U.S. central bank is close to lifting interest rates as the economy continues to strengthen, comments that sent Treasuries lower and yields on the 10-year note toward 2.25 percent. Banks pushed their rally since Donald Trump's election back above 10 percent.
Speculation that his administration will carry out fiscal stimulus continues to lift industries that are perceived to benefit from economic growth.
"A Trump victory could herald higher inflation, a roll back of financial regulation, higher spending and renewed attacks on the Fed's independence," said Michael Ingram, a market strategist at BGC Partners in London. "Having made some apocalyptic predictions in the event of Trump's victory, markets quickly took a 'glass half-full' view. The more appropriate question is 'What's in the glass -- champagne or cyanide?"'
Earnings reports were also in focus. Best Buy Co. jumped 12 percent after its profit surpassed expectations. Cisco Systems Inc. slid 5.7 percent after predicting worse-than-estimated earnings and unexpectedly forecasting a decline in sales. Wal-Mart Stores Inc. and Staples Inc. dropped after reporting sales that missed estimates.
Traders are betting a Trump presidency will quicken the pace of interest-rate increases, pricing in a 96 percent chance the Fed will act next month, compared with odds of about 80 percent before the election, while prospects for further hikes prompted a global bond selloff and strengthened the dollar. Reports today showed housing starts jumped to a nine-year high in October, while jobless claims fell to the lowest in four decades.
The S&P 500 is on track for its first monthly gain since July, pushing its annual advance to 6.8 percent. Among its industries, the financial group's 9.3 percent jump since Nov. 8 outperformed the biggest loser -- utilities -- by about 15 percentage points, a disparity level not seen since 2009.
Investors are also awaiting the final batch of quarterly results as the earnings season winds down. Reports from Gap Inc., Foot Locker Inc. and Salesforce.com Inc. are due later in the day. Analysts now expect quarterly profit growth of 2.7 percent for S&P 500 constituents, reversing forecasts for a 1.6 percent decline at the start of the month and halting a five-quarter decline.
— With assistance by Julie Edde
Before it's here, it's on the Bloomberg Terminal.
LEARN MORE