2017 May Be Japan's 'Year of the Taper'
By
With years to go until 2% inflation, JGB supply will run short

Quick abandonment of QE target would risk market turmoil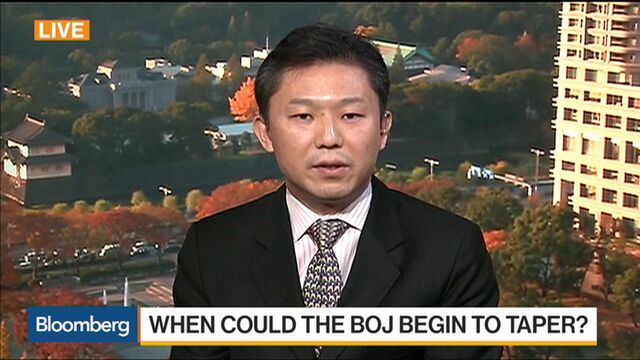 Even after putting the Bank of Japan's mega-stimulus on a more sustainable footing in recent months, Governor Haruhiko Kuroda has more work to do.
Next year could be the "year of the taper." That's according to BOJ watchers who flag that the continuing guideline of buying an annual 80 trillion yen ($734 billion) of bonds -- amounting to 16 percent of gross domestic product -- will at some point run up against operational limits. As bond traders have long warned, current owners of securities won't part with their holdings in the amounts the BOJ needs to buy.
Kuroda and his colleagues now don't see their 2 percent inflation target being achieved until at least the fiscal year through March 2019, and have pledged to keep boosting the monetary base until they overshoot that target. That means years more stimulus to come -- but fewer and fewer bonds left to buy.
"We think the BOJ should start tapering -- very gradually," said Kentaro Koyama, an economist at Deutsche Bank AG in Tokyo. "But the transition period should be long, to mitigate possible impact on the financial markets."

While the BOJ has since September shifted its focus toward yield-curve targeting -- where it maintains a negative 0.1 percent interest rate for a portion of bank reserves and a zero percent target for 10-year government-bond yields -- it has retained the previous quantitative-easing mechanism.
Does yield-curve targeting work? Read an analysis here.
One thing that would help a transition toward ending the QE target: a weaker yen. With traders focused on a reflationary Trump administration in the U.S. that allows for more Federal Reserve rate hikes, the Japanese currency has retreated in the past week. The yen was at 110.69 per dollar as of 11:48 a.m. in Tokyo -- still up 8.6 percent for year, but less than the corporate-profit-crippling 18 percent surge at the June high for 2016.
The Donald Trump reflation play saw yields climb across developed markets, with Japan no exception, though on a smaller scale. The BOJ Thursday gave notice that it was prepared to use a new tool allowing unlimited purchases of bonds to keep the yield curve under control.
Read here about the BOJ's shot across the JGB market's bows.
Kuroda told lawmakers Friday that the previous day's operation was effective, and that too rapid a rise in yields wasn't appropriate. The governor underscored that the BOJ would use its fixed-rate purchase tool as needed.
For now, Japan's economy shows no immediate need for accelerated stimulus, with GDP rising a better-than-forecast 2.2 percent annualized pace last quarter, with prospects for an advance of 0.8 percent in 2017, an improvement on this year, according to the median projection of economists surveyed by Bloomberg News. Consumer prices are seen rising just 0.5 percent, underscoring the widespread expectation that the BOJ's target won't be hit for years to come.
Timing Question
"The focus will be on when the BOJ scales back the pace of JGB purchases," Daiju Aoki, economist at UBS Group AG, wrote in a note Wednesday. "Depositary financial institutions will reach their minimum JGB holding ratio levels, which we put at 5 percent, by the end of 2018, and the BOJ will no longer be able to maintain the current pace."
Aoki penciled in the BOJ scaling back to a 70 trillion yen target in April. Koyama at Deutsche Bank said clear tapering -- beyond any de facto tapering through a reduction in month-to-month purchases -- may need to wait until late 2017. That would be after the end of the terms of two board members who are dissenting voters against the current policy framework: Takahide Kiuchi and Takehiro Sato.
Board Members
One potential challenge for tapering is opposition by at least two BOJ board members perceived to be fans of continued JGB buying. Deputy Governor Kikuo Iwata was one of those who first came up with a monetary-base expansion plan through bond buying. Yutaka Harada has also developed a reputation as an ardent reflationist. Having dissenting votes in two directions -- against tapering on the one hand and against the rate-targeting policy on the other -- could pose a communications challenge that Kuroda would rather avoid.
One wild card: Kuroda may want to avoid any scaling down of stimulus on his watch, after his historic ramp-up starting in 2013 succeeded in lifting Japan's economic trends, even if by far less than he anticipated. His term is up in April 2018.
"I think he wants to maintain the status quo until the end of his term -- that is desirable as long as the yen doesn't appreciate too much, stock prices don't fall down," Sayuri Shirai, a a former BOJ board member who served with Kuroda until March, said earlier this month. Even so, "at some point, they really have to start clarifying about how much they want to reduce -- they have to clarify tapering."
An initial downshift to 50 to 60 trillion yen would avoid putting pressure on existing holders of JGBs, Shirai said.
Meantime, the BOJ has had to keep watch on its yield-curve target.
"The yen should weaken further from here as Japan's yield-curve management must lead to widening yield differentials within a globally reflating world," Morgan Stanley foreign-exchange strategists led by Hans Redeker wrote in a note Thursday.
That would enable the reduced QE target BOJ watchers are looking for.
— With assistance by Toru Fujioka, Yoshiaki Nohara, and James Mayger
Before it's here, it's on the Bloomberg Terminal.
LEARN MORE