Slovenia Adopts Two-Year Budget After EU Scolds on Compliance
by
Government aims to reduce budget gap to 1.6% of GDP in 2017

EU warns Slovenian spending is at risk of non-compliance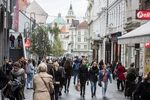 Slovenian lawmakers approved a two-year budget aimed at reducing the deficit to the lowest level in nine years following a warning from the European Union's executive that the country may flout the bloc's public-finance rules.
Lawmakers voted 47-0 to pass the spending plan, which foresees a budget deficit of 1.6 percent of gross domestic product in 2017 and 0.7 percent in 2018, according to a live broadcast on TV Slovenija early Thursday. The European Commission said Wednesday that the Adriatic country and five other EU members are at risk of violating the bloc's rules and that the budget draft might result in a "significant deviation" from the medium-term objective. Finance Minister Mateja Vranicar Erman said the EU's comments warranted caution in public finances and the government couldn't retreat from a multi-year cost-cutting drive.
"This is a serious warning," Mateja Vranicar Erman, the Finance Minister told lawmakers after the EU report. "The government estimates that all of the austerity measures can't be lifted, and we must continue with prudent spending."
Slovenia, the first post-communist nation to adopt the euro, exited the EU's budget monitoring regime in May after it reduced a deficit that swelled to almost 15 percent of output in 2013 after a bailout of state-owned banks. With the rescue, Slovenia narrowly avoided the fate of fellow EU members like Greece and Ireland, which had to ask for an international bailout.
Prime Minister Miro Cerar's government is now seeking to claw back some of the 3.2 billion euros ($3.42) that was poured into the ailing banks by selling them. Nova Kreditna Banka Maribor d.d.'s sale to Apollo Global Management LLC was completed in April, while a planned initial public offering for the biggest lender, Nova Ljubljanska Banka, may be postponed until beyond 2017, Cerar said in an interview last month.
Before it's here, it's on the Bloomberg Terminal.
LEARN MORE