Sarkozy Suggests Second Brexit Referendum After EU Reform
by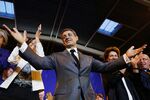 Nicolas Sarkozy, the former French president who is attempting a comeback, said that Britain cannot retain the benefits of staying in the European Union without also sharing the responsibilities of membership.
"Nobody can be in and out at the same time or enjoy privileges without fulfilling responsibilities," Sarkozy wrote in a opinion piece in the Financial Times. "This has absolutely nothing to do with retribution. It's simple logic. No European government could agree to grant the U.K. free access to the single market if Britain does not accept rules, duties and concessions, including the free movement of Europeans in return."
Sarkozy, a contender in France's 2017 presidential election, said that the choice of British voters to leave the EU needs to be respected and understood, and that the EU itself needs to modernize. He suggested that the U.K. hold a second referendum to consider returning to the bloc once changes are made.
"Once Europe emerges from its overhaul, it will be up to British leaders to decide whether to ask their people about joining the union again," he wrote. "The choice will be the British people's to make, and theirs alone. Europe must not reform because it hopes to bring the U.K. back to the fold: it must embrace reform because its future and its survival depend on it."
Before it's here, it's on the Bloomberg Terminal.
LEARN MORE