Pelosi Faces Little-Known Opponent as Democrats Rue Election
By
Tim Ryan of Ohio vies for post of House Democratic leader

Party's slim gains Nov. 8 fell short of Democrats' goals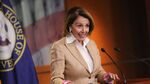 Representative Tim Ryan, a little-known Democrat from Ohio, said Thursday he'll challenge Nancy Pelosi to lead a party that's reeling from a disappointing Election Day.
Ryan's announcement that he'll run against Pelosi pits him against the only woman to ever serve as House Speaker and comes after more than a half-dozen better-known colleagues in recent years shied away from the challenge. He declared his candidacy hours after she told reporters that she'd had support from more than two-thirds of the House's roughly 200 Democratic members.
Ryan, 43, was undeterred, saying that the Democratic Party's disappointing performance in last week's election demanded new leadership.
"Over the last 18 years, Democrats have only been in the majority of the House of Representatives for two terms, and last week's election results set us back even further," said Ryan, of Youngstown. "We have lost over 60 seats since 2010. We have the fewest Democrats in state and federal offices since Reconstruction. At this time of fear and disillusionment, we owe it to our constituencies to listen and bring a new voice into leadership."
House Democrats are scheduled to vote for the leader's job and other posts by secret ballot on Nov. 30. They had originally planned to hold a vote this week, but Pelosi put it off amid disarray over the party's worse-than-expected election results.
Support Unclear
Ryan's level of support isn't clear, though he said he's getting calls from potential backers. His bid comes as some party members are expressing the need for newer, younger House leadership. A House member since 2003, Ryan is a co-founder and co-chairman of the Manufacturing Caucus. He also serves on the Defense Appropriations Committee and the Budget Committee.
A long-time opponent of free-trade agreements, Ryan's advocacy for a higher minimum wage and protections for union workers makes him one of the highest-rated members of Congress on union scorecards. He has split with his party on some issues, including gun owners' rights.
After previously opposing abortion rights, Ryan says he has evolved on the issue after hearing stories from Ohio women and becoming a first-time father in 2014; now he supports them. He's also considered a possible candidate for Ohio governor in 2018 -- a bid that might be aided by challenging Pelosi now.
Ryan praised Pelosi in an interview Friday on MSNBC, but said it was time for new leadership.
"I love Nancy Pelosi. She's a friend of mine. She's a mentor. She's in our family, but we have to talk about how we move forward," he said.
He suggested a Midwesterner like him was more suited for what needs to get done than a leader from San Francisco. "If we want to win the House back and we want to pick up the 30 or 40 seats in northern Florida, southern Indiana, Michigan, Wisconsin where a big blue firewall fell, we need someone who can go to all these districts," he said.
Pelosi's office didn't respond to a request for comment. But earlier Thursday, Pelosi claimed that she had broad support in the caucus and pointed out she had orchestrated the last Democratic takeover of the House, in 2005 and 2006. "I am very proud of that," she said.
Democrats lost the majority in 2011, after Republican victories in the 2010 elections, and have remained in the minority since. She's remained the top House Democrat in large part because she continues to raise tens of millions of dollars for the party efforts in each election cycle.
Still, since the election, there has been phone chatter among rank-and-file members over the need to consider a new leader, according to several lawmakers and staffers who asked not to be named, citing the sensitivity of the matter. Some of the disillusionment was fostered after the Democratic Congressional Campaign Committee -- Pelosi's own political arm -- raised expectations for the election that were ultimately dashed.
Pelosi even predicted that Democrats had a chance to win back the House, which would have required picking up at least 30 seats from the largest Republican majority since 1928 was possible. The theory was that Republican control of seats had stretched too far -- and that Hillary Clinton topping the ticket would draw Democratic voters to the polls. Instead, Clinton lost to Republican Donald Trump and Democrats had a net pick-up of just eight House seats, though four races remain undecided.
"We could just see it in the numbers, you know?" Pelosi said during her news conference on Thursday. "We thought we were like at 20 and trying to go for more."
Younger Leaders
Representative Ruben Gallego of Arizona said Thursday on MSNBC that he's not yet supporting either Pelosi or Ryan -- but said he doubts that Pelosi has secured the election.
"It's not the sense that I get," said Gallego, who pushed to have the leadership vote delayed. "If you're supporting Nancy Pelosi, you should ask her what is going to change? What's going to be different this year? How are we going to pick up more seats? How are we going to defend the country against Donald Trump? And if you're supporting Tim Ryan, the same things should be asked."
Some discussion has also centered on how the caucus has gotten younger and that its elected leaders should reflect that trend. Pelosi and two other top Democrats -- Minority Whip Steny Hoyer of Maryland and Assistant Democratic Leader James Clyburn of South Carolina -- are in their 70s.
Younger members seen as potential leaders include Representative Joseph Crowley of New York -- but he's running to succeed Xavier Becerra of California as conference chairman. Representatives Peter Welch of Vermont, Raul Ruiz of California, Ben Lujan of New Mexico, Gerry Connolly of Virginia and Tulsi Gabbard of Hawaii have also been mentioned. Few are household names.
Ryan isn't one either -- though he's perhaps best known for balancing his role as a political warrior with the practice of mindful meditation to reduce stress. He wrote a book about it, he hosts weekly sessions for staff and members of Congress, and he appeared in a "60 Minutes" segment about it in December 2014.
Before it's here, it's on the Bloomberg Terminal.
LEARN MORE